Major cities eye balanced growth
By Jiang Zhuqing/Pan Haixia (China Daily)
Updated: 2006-01-16 05:26
In Shanghai, Mayor Han Zheng set a target of 9 per cent annual growth for GDP to reach 1.5 trillion yuan (US$185 billion) in 2010, up 40 per cent from 2005.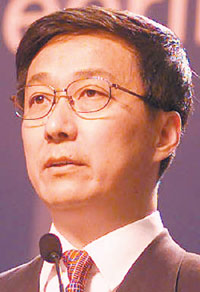 Han Zheng: "Better city, better life"

Speaking to the municipal people's congress, he said the economic powerhouse would complete building the infrastructure to be a global economic, financial, trade and shipping centre in the next five years.

"Through these ambitious goals, both the city's international competitiveness and residents' living standards will see discernible improvement," he added.

His vision matches the city's theme for its 2010 World Expo Better City, Better Life.

Among the key features of the work plan:

Spending on research and development will be raised to 2.8 per cent of GDP. The figure in 2005 was around 2.3 per cent.

The contribution of the high-tech industry to rise from 58 per cent to 65 per cent of industrial output.

To spend no less than 3 per cent of GDP on the environment; and power consumption per unit of GDP to fall by 20 per cent from the 2005 level. Green coverage to reach 38 per cent, one percentage point higher than now.

To maintain the registered unemployment rate at around 4.5 per cent.

To reconstruct 4 million square metres of dilapidated old residential houses.

The distance covered by the subway will see a leap from the present 153 kilometres to 400 kilometres.

Expansion on the two international airports will start this year, which will double the city's annual passenger volume capacity to be more than 80 million.