Lab poisoning mystery triggers debate
By Jessie Tao (chinadaily.com.cn)
Updated: 2006-01-13 17:37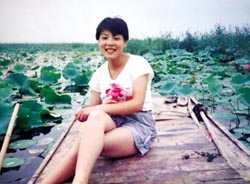 Zhu Ling as a college student in Tsinghua University in 1995.
A mysterious poisoning case that happened 11 years ago in Tsinghua University has once again drawn attention of visitors to the Tianya club, one of the most visited online BBS in China.
Discussions have increased after the NO.1 suspect involved in a student's death recently issued a statement of innocence for the first time after keeping silent for years.
Back in 1995, Zhu Ling was a sweet and smart chemistry student in the prestigious Tsinghua University. But she fell into a devastating state due to thallium poisoning. She is now fully paralyzed and has lost almost all the eyesight and language ability.
Discussion and speculation have never stopped on whether someone attempted to murder her through thallium poisoning, although the police have yet to give a definite answer.

One of Zhu Ling's roommates, Sun Wei (alias), has been deemed the No. 1 suspect by Zhu's parents.
"The university told us Sun was doing a research with a professor at that time. Thus she was the only student who might have access to the deadly heavy metal of thallium" said Zhu's mother.
Eleven years later, Zhu Ling's classmates, who have been collecting money for Zhu Ling's treatment, again called for caring for the unfortunate woman, with the launch of a thread titled "Tsinghua girl poisoned ten years ago" in Tianya.
A netizen named Skyoneline wrote in the thread:
"ˇ­Smart, beautiful, and elegant, Zhu Ling was perfect in most people's eyes. But a weird poisoning incident changed everything. In December of 1994, she suffered from a serious illness -- heavy hair loss, paralyzed face, inarticulate, and weak limbs. None of the specialists in Peking Union Medical College Hospital (PUMCH) could identify the cause, therefore, treatment was delayed."