Chavez: Venezuela may not buy US jets
(AP)
Updated: 2006-01-11 09:05
Venezuelan President Hugo Chavez said Tuesday that Venezuela would consider buying Russian or Chinese warplanes if the United States fails to honor a contract to supply his country with parts for its F-16 jets.
The Venezuelan leader also accused Washington of blocking Venezuela's acquisition of Super Tucano military planes from Brazil because the jets are built with U.S. technology.
"The contract for Brazil to make us some planes, which are for training, could not be signed because of the United States," said Chavez, speaking to hundreds of soldiers at military fort in Caracas.
"We will have to wait to see if Brazil can resolve the problem. If not, well, they produce fighter jets and bombers in China too," he added.
Chavez said the United States has failed to supply the parts needed to keep Venezuela's F-16s flying and suggested he could turn to Russian-built MIGs. But U.S. officials said replacement parts for U.S.-made warplanes have recently been sent to the South American nation.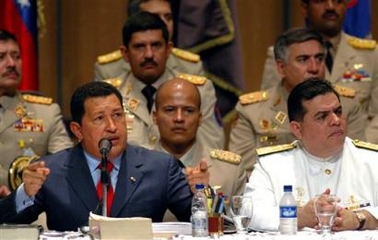 In this photo released by Venezuela's Miraflores Press, Venezuela's President Hugo Chavez, left, speaks at the inauguration of the new military academic year as his Defense Minister Orlando Maniglia sits to his right in Caracas, Venezuela, Tuesday, Jan. 10, 2006. [AP]

"If we have to substitute the fleet of F-16s with a modern fleet of MiGs we will do it, nothing is going to stop us," said Chavez, an ally of Cuban leader Fidel Castro.

U.S. Embassy spokesman Brian Penn denied the United States has failed to send replacement parts.

Cartridges for F-16 ejector seats arrived at Caracas' La Guaira international airport on a C-17 cargo plane in November, Penn said in a telephone interview. He said shipping documents were available to back those claims.

Penn said he did not have any information about Venezuela's plans to purchase planes from neighboring Brazil.

Venezuela purchased its fleet of 21 F-16s in 1983. U.S. officials have said the 1982 contract does not obligate the United States to supply parts indefinitely to Venezuela or to upgrade the planes.

At the same event, the Venezuelan leader claimed that the U.S. was conspiring against Bolivian President-elect Evo Morales, his close friend and leftist ally. But Chavez didn't back up his claims with any evidence.

"I'm sure the United States Embassy in Bolivia has already started the conspiracy against Evo. ... I'm also sure that American military personnel are holding talks, looking for coup leaders," he said without elaborating.

Penn, the U.S. Embassy spokesman, rejected Chavez's comments. "The U.S. has had good relations with Bolivia in the past, and we are prepared to build a similar relationship with the new administration," he said.'

There was no immediate response from Bolivian officials.

Chavez, a harsh critic of the Bush administration, also urged Venezuela's military to prepare for a possible invasion by the United States, saying the best way to avoid an armed conflict is being ready for war.

He said Venezuela would never enter an armed conflict with any of its Latin American neighbors, but could eventually be forced to repel a military invasion by U.S. troops.

"If we are going to war, the only war possible for us would be the one that we are obliged to make against an invasion by North American imperialism," said Chavez.

U.S. officials repeatedly denied any plans to invade Venezuela, but Chavez has called on his countrymen to prepare for a conflict by learning to use a firearm and joining the military reserves.

Chavez, who says he is creating a new socialist system in the world's fifth-largest oil exporter, accuses the United States of attempting to dominate Latin American countries through economic and cultural "imperialism."