China, India to discuss border, sign deals
(China Daily/AP)
Updated: 2006-01-11 05:47
China and India have agreed to hold the seventh round of border talks in New Delhi in late February.
This was announced after visiting Indian Foreign Secretary Shyam Saran met with Chinese Deputy Foreign Minister Dai Bingguo for the two-day second round of strategic talks in Beijing, which concluded yesterday.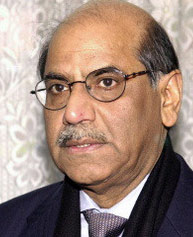 Indian Foreign Secretary Shyam Saran [AFP/file]

Foreign Ministry spokesman Kong Quan said at yesterday's news conference that the two sides are committed to settling the disputes considering the current aim of developing friendly relations.

Kong also announced India's Oil Minister Mani Shankar Aiyar will pay a three-day visit to Beijing starting today.

Invited by the National Development and Reform Commission, Aiyar is scheduled to hold talks with officials from the commission and China's energy enterprises in order to reinforce energy ties.

Ahead of his trip, Aiyar said India and China will jointly bid for, explore and produce energy under an agreement to be signed this week.

At least five agreements will be signed between companies of the two countries, with seven more agreements likely to be finalized during his visit.

"In all spheres of energy development, there is a great deal we could learn from China and perhaps something we could give them," Aiyar said.