Poor surveillance led to human infections
(China Daily/AFP)
Updated: 2006-01-11 05:44
The main reasons for human infections are a lack of effective bird flu surveillance in villages and towns as well as delayed reporting of outbreaks, according to the Ministry of Health.
Spokesman Mao Qun'an offered the explanation yesterday following the ministry's announcement of China's eighth human case of H5N1 bird flu on Monday night.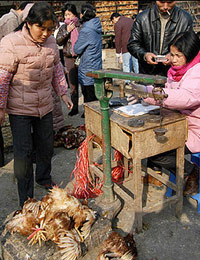 A vendor weighs chickens for a customer at an outdoor chicken market in Nanjing, in eastern China's Jiangsu province in December 2005. [AFP]

A 6-year-old boy, surnamed Ouyang, in Guiyang County of Central China's Hunan Province is reported to be in a critical condition in hospital.

Experts have found ill chickens in the area where the boy lives, but have yet to test whether they are infected with H5N1.

Most of the human cases on the Chinese mainland were first reported in big hospitals before investigations were conducted in the patients' villages to find the source, Mao said.

The probes have usually led to the discovery of poultry epidemics where they lived but which were not reported, he said.

At village clinics or township hospitals, the human infections were typically diagnosed as pneumonia from unknown causes because doctors there are not qualified to detect bird flu infections.

As a result, the best window of opportunity for treatment was missed, leading to the three fatalities in China, he said.

The monitoring and reporting system of infectious diseases now covers 66 per cent of China's township hospitals, and more than 90 per cent of hospitals at county levels or above.

More village doctors will be encouraged, and financially supported, to join the system, Mao said, adding that all hospitals have been asked to scrutinize pneumonia cases without clear causes.

Mao said that controlling the virus would be one of the health ministry's top priorities in 2006.

"What we're doing is to seek to strengthen supervision in the health system, to detect infectious diseases and monitor epidemics as early as possible," he said.

"In the new year we'll especially emphasize the effort to prevent and control bird flu among humans."