Railway ticket prices to be increased during Spring Festival
(Xinhua)
Updated: 2006-01-10 22:00
The Chinese Ministry of Railways (MOR) announced here Tuesday that the prices of train tickets will increase before the traditional Spring Festival, or China's Lunar New Year, which will fall on Jan. 29 this year.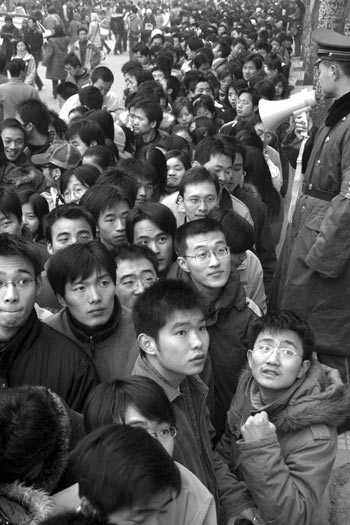 Ticket to ride: Students in Shaanxi Province queue up to buy train tickets back home for Spring Festival January 3 2006, in a ticket office in Shaanxi International Exhibition Centre in Xi'an. The office has 16 windows just for students. [Xinhua]
The ministry said the price hike is intended to control passenger flow during the peak travel period.
According to the ministry, the price of hard seat tickets will rise by 15 percent and price of other tickets will rise by 20 percent from Jan. 21 to 27 and days after Jan. 31.
The ticket prices that will be increased are mainly tickets of trains launched in areas under the jurisdiction of the railway bureaus of Beijing, Shanghai and Guangzhou.
The State Development and Reform Commission held a public hearing about ticket price hike in 2002 in which the price fluctuation was approved. In the past three years, the ministry raised train ticket prices during the peak season by 15 percent to 20 percent.
Critics have said that the hearing was held three years ago and does not comply with the current situation. But the ministry said the guiding price will be carried out in the future years.
Lines that raise their ticket price account for 12 percent of the total line, a MOR official acknowledged, adding that this is not too much.
The ministry, in order to encourage people not to take trains during peak days, will also reduce ticket prices from January 28 to 30 (three days around the traditional lunal new year, which people usually spend at home) by 10 percent, the MOR official said.