Catholicism flourishes in Tibetan village
By Mu Qian (China Daily)
Updated: 2006-01-10 14:13
Twenty-six-year-old Joseph and 25-year-old Teresa had their second child on October 10, 2005. Joseph's uncle Austin named the boy Michael. On December 25, Michael was baptized in the Catholic Church of their village Cizhong.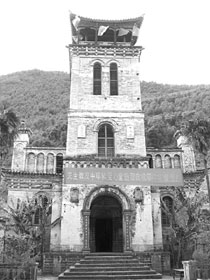 The three-storey clock tower of Cizhong Church is a Gothic building, but its top floor is of Chinese pavilion style, covered with glazed tiles. [China Daily]

Located by the Lancang River and Hengduan Mountains, Cizhong is a small village in Diqing Tibetan Prefecture of Southwest China's Yunnan Province. Among the 1,101 residents of Cizhong, most are Tibetans.

It may be hard to associate Tibetan faces with such names as Joseph and Teresa, but since some local residents were converted to Catholicism around 100 years ago, they began to adopt Christian names and gradually forsook Tibetan names, which are usually given by lamas.

Following the tradition of Christians, many who grew up in Cizhong but work elsewhere return to join Christmas celebrations at home.

Hansen, 28, a tour guide working in Shangri-la, capital of Diqing prefecture, asked for eight days' leave. Hansen said he had prayed in the church with his parents every year since childhood.

When he studied in Yunnan Ethnic Vocational High School in Kunming, he began to dig deeply into Catholicism. Now, Hansen reads a Chinese-English bible every day.

"Actually Christianity and Buddhism are similar in terms of advocating good deeds," said he. "They differ only in forms."

For this Christmas, Hansen brought with him his girlfriend Lurodroma, who is from a Tibetan-Buddhist family in Shangri-la. Lurodroma said it was the first time for her to celebrate Christmas, and she found it interesting.

Seeds of Catholicism

In the second half of the 19th century, the Foreign Missions of Paris began its activities in Deqen County in northwestern Yunnan. They built churches in Badong Village in 1866, in Cigu Village in 1867, and in Adunzi (now Shenping) in 1872.

However, the French missionaries' work in this Tibetan-Buddhism-dominated area was far from smooth. In an "exorcising foreign religion" movement in 1905, two missionaries were killed and Cigu's church burned down.