Kobe's 45 leads Lakers past Pacers 96-90
(AP)
Updated: 2006-01-10 14:03
LOS ANGELES - Kobe Bryant scored 45 points, making him the first player to score at least that many in four consecutive games in more than 41 years, and the Los Angeles Lakers beat the Indiana Pacers 96-90 Monday night for their third straight victory.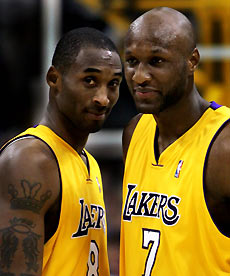 Los Angeles Lakers' Kobe Bryant (L) and Lamar Odom react late in the game against the Indiana Pacers in Los Angeles January 9, 2006. Bryant scored 45 points to lead the Lakers to a 96-90 win. Odom scored 17 points and had 12 rebounds in the win. [Reuters]

The last player to score at least 45 or more points in four consecutive games was Wilt Chamberlain in November 1964, according to the Elias Sports Bureau.

Bryant had 45 on Dec. 28 against Memphis, 48 last Friday night against Philadelphia, and 50 on Saturday night against the Clippers.

Bryant scored 17 points in the fourth quarter, reaching 45 by making two free throws with 9.6 seconds left. He also had 10 rebounds and five assists. He had become the first player with at least 45 in three straight games since Michael Jordan accomplished the feat in 1990.

Lamar Odom had 17 points and 12 rebounds and Kwame Brown added nine points and nine rebounds for the Lakers (18-16).

Jermaine O'Neal led the Pacers (18-14) with 24 points and 16 rebounds. Anthony Johnson added 14 points and rookie Danny Granger had 12 points and nine rebounds.

Indiana's Stephen Jackson, who scored a season-high 31 points Sunday night during a 108-83 victory at Sacramento, was limited to 24 minutes because of foul problems and scored only eight.

Bryant made a basket with 1:46 remaining to snap an 85-all tie and put the Lakers ahead for good. O'Neal missed two free throws 12 seconds later, and Odom made a 3-pointer with 1:20 left to give the Lakers a five-point lead.

Bryant's last two points made it 95-90 and clinched the victory. Bryant shot 14-of-32 from the field and 15-of-21 from the foul line.

The Lakers scored the first eight points of the fourth quarter to go ahead 72-65. But the Pacers responded by going on a 12-4 run for a 77-76 lead. Neither team led by more than four points after that until Odom's 3-pointer.

O'Neal, playing in his second game since missing three due to illness, scored six points during a 13-3 run that gave Indiana a 60-57 lead. The Pacers led 65-64 entering the fourth quarter.

Neither team led by more than four points in the second period, which ended with the Lakers on top 47-45. Bryant had 20 points at that stage.

Jackson began the game guarding Bryant, but went to the bench with two fouls just 3 1/2 minutes into the game and didn't return until the second quarter.