China to maintain rapid growth: economist
(AP)
Updated: 2006-01-09 14:57
China's economy will maintain steady and rapid growth in 2006 as investment and consumption become the major drives of growth, a government economist said in comments published on Monday.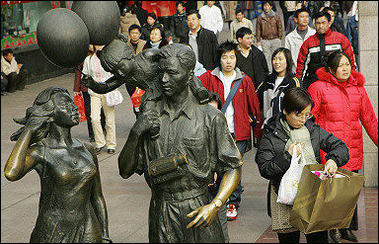 Shoppers walk past a statue of a happy Chinese family, in Shanghai. A chief ecnomist in China said China's economy will maintain steady and rapid growth in 2006 due to acceleration of investment and consumption. [AFP]


Yao Jingyuan, chief economist of the National Bureau of Statistics, said the most notable point for China's economic growth in 2006 was the remarkable role of consumption as a key economic driver, domestic China Securities Journal said.

At a forum in last month the economist had predicted that China's gross domestic product growth was likely to slow to between 8 percent and 9 percent. It has been consistently faster than 9 percent for the past two years, and the latest revisions suggest it has been exceeding 10 percent.

"China's economic growth should shift its reliance on investment and export to investment and consumption," Yao said, adding domestic and foreign demand should work together to push forward the economy.

He also said that household consumption should be the dominant factor for domestic consumption and suggested that the main measures to expand consumption should be to increase people's incomes and to raise the marginal consumption trends.

Yao also said China's consumer price index growth in 2005 had not exceeded 1.8 percent, significantly lower than 2004's 3.9 percent.