Hu urges innovation in science, technology
(Xinhua)
Updated: 2006-01-09 11:34
President Hu Jintao outlined major strategic tasks for building an innovation-oriented country at a national conference on science and technology that opened in Beijing Monday morning.
Hu said China will embark on a new path of innovation with Chinese characteristics, the core of which is to adhere to innovation, seek leapfrog development in key areas, make breakthroughs in key technologies and common technologies to meet urgent requirements in realizing sustained and coordinated economic and social development and make arrangements for frontier technologies and basic research with a long-term perspective.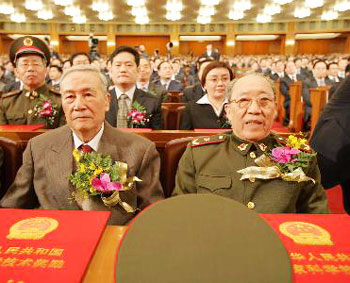 Scientists Ye Duzheng (left) and Wu Mengchao win the top state award in science and technology in Beijing January 9, 2006. [Xinhua]
Raising innovation capability should be given prominence to and the nation's competitiveness should be enhanced broadly, said Hu.
Innovation is the core of the nation's competitiveness and the strategic motif of China's future science and technological development. The practice of the world's science and technological development shows that only with strong innovation ability, can a country win the initiative in the international competition, said Hu.
The real core technologies cannot be purchased but can only be achieved by innovation, which should be given priority in the whole science and technological work, he said.
Raising the capability of innovation must center on serving the economic and social development and try best to tackle major issues in the field which hamper the economic and social development, said Hu.
Technologies of energy resources, water resources and environment protection should be developed as priorities. Grasping the intellectual property rights of key techniques in equipment manufacturing and information industries should be regarded as breakthrough points in raising competitiveness, said the president.
Boosting manufacturing and information industries, raising agricultural production capability, making breakthroughs in energy exploration, technologies of energy-saving and clean energy resources and optimizing energy structure should be goals to achieve in the science and technological development, he said.
The goals also include developing recycling economy, making breakthroughs in pharmacy and key medical equipment, developing technologies for national defense, and building up advanced scientist groups, research institutions and enterprises, Hu said.
To encourage the innovation of the entire society and turn the scientific and technological achievements into productive forces are important tasks of building up an innovation-oriented country,Hu said.
"The government would play a leading role in the scientific and technological innovation, while the basic role of market will be given a full play in the scientific and technological resources allocation," he said.
"Companies would play a principal part in the innovation, while research institutes and universities across the country would assume a key and leading role in the innovation," he said.

Hu said there remains a relatively big gap between the overall scientific and technological level of China and that of the world advanced level.
"The overall scientific and technological level of China still cannot meet the requirements of China's economic and social development in many fields," Hu said.
The ratio of self-owned key technology remains low, the capability of innovation is not strong enough, especially the core competitive power of enterprises.
The scientific and technological level of agriculture and the rural economy remains relatively low; the ratio of new and hi-techindustries in the entire economy is still not high; in some key areas of the industrial technology, reliance on foreign technology remains relatively high, many high-tech and high-value added products mainly rely on imports; the strength of scientific research is not strong and outstanding and top-notch talents are much under-supplied; input in science and technology is not enough and there exist many drawbacks with relevant systems and mechanisms, said Hu.