Anthony's buzzer beater saves Nuggets
(Agencies)
Updated: 2006-01-09 08:47
HOUSTON - Long after Houston star Tracy McGrady was removed from the floor on a stretcher and taken to a hospital because of back spasms, Denver's Carmelo Anthony hit a baseline jumper with a second left to give the Nuggets a 92-90 victory over the already injury-depleted Rockets on Sunday night.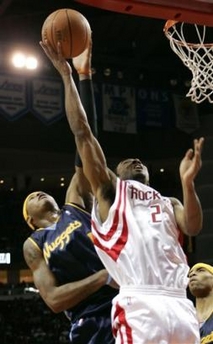 Denver Nuggets' Carmelo Anthony, left, blocks the shot of Houston Rockets' Luther Head (2) during the second quarter of their NBA basketball game Sunday, Jan. 8, 2006, in Houston. [AP]

McGrady missed a long jumper in the final seconds of the first half, then crumpled to the floor, grabbing his back and screaming in pain as the buzzer sounded. He had missed eight games earlier this season with back spasms and the Rockets lost them all.

Earl Watson scored 20 and Anthony finished with 19 for the Nuggets, who played most of the final three quarters without Kenyon Martin, who strained his back.

The Rockets actually shot better on Sunday without McGrady, going 11-for-20 (55 percent) in the third quarter after shooting 35 percent in the first half.

The Nuggets still led 67-62 heading to the fourth, but a steal by Luther Head and a fast-break layup by Rafer Alston put Houston up 83-82. Alston scored a season-high 24.

The lead changed hands three times before Stromile Swift's two-handed dunk gave the Rockets an 88-87 lead with 1:58 left.

Francisco Elson missed a medium-range jumper with 53 seconds left, but Anthony grabbed the key rebound, setting up Earl Boykins' go-ahead 3-pointer.

Late in Houston's next possession, Swift picked up a loose ball in the lane and was fouled by Andre Miller with 19.2 seconds left. Swift made both free throws to tie the game at 90-all.

Anthony, guarded by McGrady in the first half, got the ball in the corner and rattled in the game-winner over David Wesley.

Out of a time out, Jon Barry inbounded to Swift, who lost the ball as the buzzer sounded.

The Nuggets trailed by as many as nine in the first half, but rallied for a 40-37 lead at the break.

McGrady's painful departure added to a remarkably long list of injuries and absences that have ravaged the Rockets' season.

Houston's other star, Yao Ming, is out at least another month after toe surgery to remove an infection and Juwan Howard served a one-game suspension Sunday after a confrontation with Toronto's Mike James on Friday.