Man who shot Pope John Paul to be freed
(AP)
Updated: 2006-01-09 08:43
The man who shot Pope John Paul II in 1981 will be released from prison this week after a court decided he had completed his sentence for the attack on the pontiff and other crimes ¡ª a ruling that took the Vatican by surprise.
Mehmet Ali Agca was extradited to Turkey in 2000 after serving almost 20 years in Italy for shooting and wounding the pope in St. Peter's Square in Rome. His motive for shooting John Paul in the abdomen on May 13, 1981, remains unclear.
Agca, 47, was to be released on parole Thursday, his lawyer, Mustafa Demirbag told The Associated Press by telephone.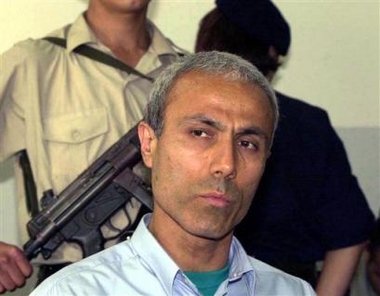 Mehmet Ali Agca, Turkish gunman who shot Pope John Paul II, is seen during his trial in Istanbul, Turkey, in this June 16, 2000 file photoo, after Italy extradited him to Turkey to serve a 10-year prison term for killing prominent Turkish editor Abdi Ipekci.[AP/file]

"He was eligible to be released on parole because he had no disciplinary problems," Demirbag said.

The semiofficial Anatolia news agency suggested that Agca was expected to be immediately enlisted by the military for obligatory service because he had dodged the draft. However, it was not clear if that would happen because the military generally only accepts conscripts younger than 41.

Turkish paramilitary police were expected to take Agca first to a local military station and then to a military hospital in Istanbul for a medical check, a routine procedure.

Vatican spokesman Joaquin Navarro-Valls said the Vatican would defer to the judgment of the Turkish tribunal.

"The Holy See has learned only from news agencies of the news of the possible freedom of Ali Agca," he said in a brief statement. "The Holy See, before a problem of a judicial nature, submits to the decisions of the tribunals involved in this matter."

Agca's sister, Fatma Agca, said she also was surprised.

"We did not hear it," Fatma Agca told the AP from the family home in the southeastern city of Malatya.

In one of the most famous moments of his papacy, John Paul personally pardoned Agca 2 1/2 years after the attack, sitting face-to-face and almost touching knees with his attacker during a 21-minute private meeting in a prison cell in Rome.

John Paul called his prison visit "a historic day in my life as a man, a Christian, as a bishop and bishop of Rome," and he added that Agca had expressed repentance for the attack.

"The Lord gave us the grace to be able to meet each other as men and as brothers," the pope said.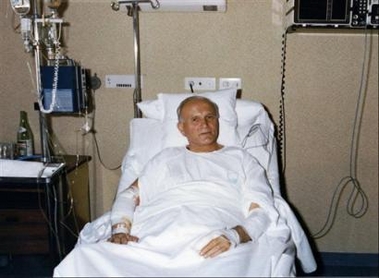 May 19, 1981 file photo of Pope John Paul II sitting in his bed at the Policlinico Gemelli hospital in Rome after he was wounded in St. Peter's square by his would-be assassin Mehemet Ali Agca on May 13, 1981.[AP/file]

Reporters were barred but a Vatican film showed that Agca bent and kissed the pope's ring at the start of the meeting and shook his hand after they sat down.

The pope also had pardoned Agca from his hospital bed five days after the shooting.

Upon his return to Turkey from Italy, Agca immediately was sent to prison to serve a 10-year sentence for murdering the Turkish journalist Abdi Ipekci in 1979. He was separately sentenced to seven years and four months for two robberies in Turkey the same year.

An Istanbul court ruled in 2004 that Agca should only serve the longest sentence ¡ª his conviction for killing Ipekci.

Demirbag, explaining the court decision, said Agca was sentenced to life in prison, which amounts to 36 years under Turkish law, for the killing. He served less than six months in Turkish prison in that case before he escaped, resurfacing in 1981 in Rome.

An amnesty in 2000 deducted 10 more years from his time, leaving some 25 1/2 years to be served, the lawyer said. The court last week further deducted his 20 years in prison in Italy based on a new article in the penal code.

Agca reportedly identified with the Gray Wolves, a far right-wing militant group that fought street battles against leftists in the 1970s. He first confessed to killing Ipekci, one of the country's most prominent left-wing newspaper columnists, but later retracted his statements.

In a March interview with the Italian daily newspaper La Repubblica, Agca made contradictory remarks about his attempt on John Paul's life. He initially said Vatican prelates helped him carry out the shooting, adding: "The devil is within the Vatican."

He then reportedly said in the same interview that "nobody in the world knew of my attempt."

There has been speculation that agents from Bulgaria helped plot the assassination attempt because of that country's ties with the Soviet KGB, which reportedly was alarmed by the pope's support for the Solidarity trade union in Poland.

In 2002, however, John Paul sought to lay the issue to rest, declaring he never believed there was a Bulgarian connection to Agca.

Three Bulgarians suspected of complicity in the shooting were acquitted by an Italian court because of a lack of evidence.

But in his book, "Memory and Identity: Conversations Between Millenniums," John Paul said Agca had been maneuvered by another party.

"Ali Agca, as everyone says, is a professional assassin. The shooting was not his initiative, someone else planned it, someone else commissioned him," the pope wrote.