China uses cards to teach bird flu prevention
(AFP)
Updated: 2006-01-09 06:55
China is using playing cards to teach people how to protect themselves from the deadly H5N1 bird flu virus, as the world's biggest poultry producer finds novel ways to spread awareness.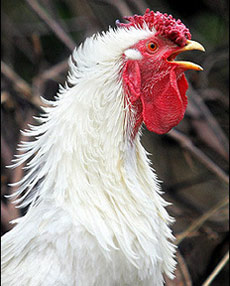 A rooster crows in rural Nanzhuang village, November 2005, on the outskirts of Anqing in central China's Anhui province. [AFP]

The cards will be illustrated with cartoons informing players what bird flu is, the dangers of the epidemic, how the disease is transmitted as well as prevention and control measures, the Xinhua news agency said.

The cards are being sold in the northern province of Shanxi.

The addresses and telephone numbers of the disease prevention and control organizations across China are also printed on the cards, which were developed by a hospital in Shanxi's Yuncheng city, said Xinhua.

Cards have been used in China to teach people about AIDS and to catch criminals. Pictures of fugitives have been printed on some cards.

They are seen as especially handy for informing China's large floating population of more than 140 million migrant workers, many of whom are frequently travelling or too busy to read and watch TV.

Playing cards is a popular pastime for many Chinese, especially on trains.

China has confirmed seven human cases of bird flu since late last year, including three fatalities, and reported more than 30 outbreaks among poultry in several provinces since early 2005.

General knowledge about bird flu however may still be weak, especially in the vast countryside.

No details were given on what information the cards provide.

The World Health Organization advises people not to eat birds from diseased flocks, not to eat raw poultry parts, including raw eggs, and to cook poultry meat at 70 degrees Celsius or higher.