Koizumi's arguments arouse strong reaction
(Xinhua)
Updated: 2006-01-08 11:41
Japanese Prime Minister Juniciro Koizumi does put Japan-China relations "high" on his 2006 agenda. Like before, he was again spearheading the attack on China, saying "I cannot understand why a foreign government should intervene in a matter of the heart and make it a diplomatic issue."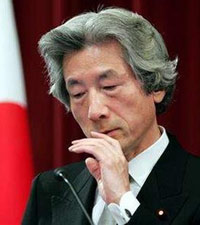 Japanese Prime Minister Junichiro Koizumi is shown in Tokyo January 4, 2006. [Reuters]

He was openly defending his repeated visits to the Yasukuni shrine, a symbol of Tokyo's past militarism, and Koizumi's remarks drew a swift reaction from Chinese experts on Japanese issues and many netizens, who denounced Koizumi's argument as "untenable".

At a televised press conference on Wednesday, Koizumi defended his visits to the notorious shrine, saying again that it is "a spiritual issue".

Koizumi reiterated his view that the visits were a matter of an individual's freedom of spirit and thought, making it hard to understand criticism from China and the Republic of Korea (ROK).

Yao Wenli, a researcher with the Chinese Academy of Social Sciences, called Koizumi's remarks "substantial damage" to the foundation of Sino-Japanese ties, noting that the remarks once again hurt the feelings of the Chinese and people of other Asian countries.

"The prime minister tries to shirk responsibility and shift the blame onto others. However, as anybody can tell, it's groundless sophistry", Yao stressed.

When asked to comment on Koizumi's remarks, Chinese Foreign Ministry spokesman Qin Gang said Thursday that China hopes Japan will properly handle issues concerning the political basis of bilateral ties, consider Chinese people's feelings, and create the conditions for an improvement of Sino-Japanese ties.

"The current difficult situation in Sino-Japanese relations was not caused by China," Qin said, hoping the Japanese side would realize this.

ROK Foreign Minister Ban Ki-moon also urged Koizumi to listen attentively to the voice of other countries and acknowledge modern history.