Relief efforts stepped up in snow-hit Xinjiang
(Xinhua)
Updated: 2006-01-08 11:09
Blizzard-hit Xinjiang Uygur Autonomous Region has been taking emergent measures to help the herdsmen and their livestock out of difficulties.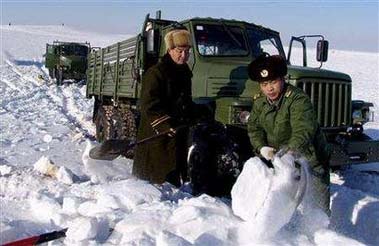 Chinese soldiers clear snow around a stranded truck in northwest China's Xinjiang Uygur Autonomous Region, January 5, 2006. [Newsphoto]
Most parts of Xinjiang had been hit by continuous heavy snowfall amid drastic temperature drops since December 29 last year, leaving herdsmen and their livestock stranded in winter pastures.
Altay Prefecture was most seriously affected. The snow, about 40 centimeters thick, prevented the livestock at the winter pastures from finding sufficient food, according to the local government.
The local government in Altay has been organizing various departments to help the stranded herdsmen and their livestock back to their residential areas or safe places, said Zaken, an official with Altay Prefecture.
Most livestock are moving to safe areas and only some weak ones died half way in the blizzards, said Hanbar, a herdsman in Fuyun County, one of the most seriously affected counties in Altay.
Rescuers have prepared dry dung of cow and sheep for the livestock to rest on so that they would not rest in snow and this is very considerate since livestock would die if their legs got hurt and they could not stand up and move forward in snow, said Ziahemaiti, a local herdsman in Fuyun County.
The county has sent 1.5 million yuan (US$187,500) in relief, 1,000 tons of feedstuff and 300 tons of flour to the affected areas. Soldiers and local traffic department have got through most blocked herding passages to help herdsmen and livestock return to their residential areas.
According to the regional disaster relief authorities, 97,000 people have so far been evacuated from the blizzard-hit areas, with their livelihood properly arranged.
The local governments of Tacheng, Bortala, Changji and Hami have allocated cotton tents and clothes to the disaster-stricken areas.
Meteorologists said no more heavy snowfall is expected for the region in the coming week.