Japan says to hold talks with China
(Reuters)
Updated: 2006-01-08 09:20
Japan said on Friday it would hold informal talks with China next week to discuss overall ties, chilled by disputes over a range of issues including Japan's war history and energy rivalry.
Foreign ministry officials will meet in Beijing on Monday, the ministry said in a statement.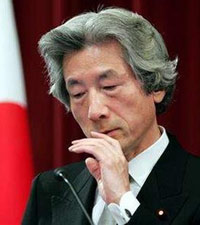 Japanese Prime Minister Junichiro Koizumi is shown in Tokyo January 4, 2006. [Reuters]

Sino-Japanese relations sank to their lowest level in decades last year, due partly to Prime Minister Junichiro Koizumi's annual visits to a shrine for war dead that China regards as a symbol of Japan's past militarism.

In parallel with the broader discussions, talks will be held to discuss ways to develop resources in disputed areas of the East China Sea, the ministry said.

A spokesman for China's Foreign Ministry said the talks would be an "informal working engagement" between the two foreign ministries' chief diplomats for Asian affairs. He said discussions would focus on the East China Sea dispute.

Earlier, Japanese government officials said Tokyo and Beijing were far apart over how to explore and develop oil and gas resources in the disputed areas.

On Wednesday, Koizumi rejected criticism by China and South Korea of his visits to Tokyo's Yasukuni shrine which houses 14 Class A World War II war criminals.

Koizumi said again that he made the pilgrimages to honor the war dead and pray for peace.

He said the feud should not drive a diplomatic wedge between Japan and its neighbors and that he was committed to developing friendly ties with Beijing and Seoul.

Many in China and South Korea see the shrine as a symbol of Tokyo's past militarism.

Japan colonized the Korean peninsula from 1910 to 1945 and occupied parts of China from 1931 to 1945.

Koizumi met Chinese President Hu Jintao last April on the sidelines of an Asia-Africa summit in Indonesia, where the two tried to halt the downward spiral in ties symbolized by sometimes violent anti-Japanese protests in China.

The latest problem is an argument over the death of a member of staff at the Japanese Consulate General in Shanghai in 2004.

Japan said the death was linked to action by Chinese security agents, an allegation China said was "vile" behaviour that "smears" Beijing's image.

Foreign Ministry spokesman Qin Gang said last week the death was suicide and China and Japan had clearly defined the nature of the case 18 months ago.