Panda pair may have offspring in Taiwan
(Xinhua)
Updated: 2006-01-08 08:46
The two giant pandas chosen as a goodwill gift of the mainland for Taiwan are "very likely" to have descendants on the island province, local experts have said.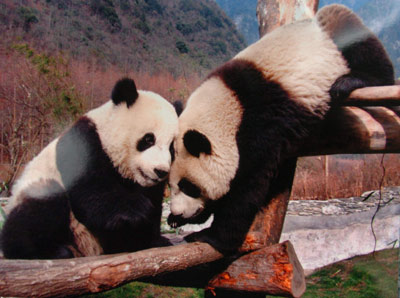 Two pandas play at the China Giant Panda Research Centre in Wolong, Southwest China's Sichuan Province in this undated photo. The pair has been chosen as a goodwill gift to the Taiwan compatriots, the State Forestry Administration said Friday. [Xinhua]
The panda couple were selected from 23 candidates raised in the Wolong China Giant Panda Research Center in southwestern Sichuan Province, said Cao Qingyao, spokesman of the State Forestry Administration, at a press conference on Friday.
Li Desheng, a zoologist at the center, said the pair are not only outstanding in physical and genetic features, more importantly they seem to be a perfect match and are pretty much in love.
They are known at the Wolong center as "Xiaoguaiguai", meaning "little darling," and "Huangmao Yatou," translating literally into "chit of a girl."
"Huangmao Yatou" has been living in the wild and "Xiaoguaiguai" is being raised by zoologists in Wolong. Li said different genetic qualities are expected to make their future descendants attractive and lively.
The Chinese mainland has successfully developed the artificial reproduction techniques for giant pandas and is willing to offer help to and share experience with zoologists in Taiwan, said Zhang Hemin, director of the Wolong center.
Zhang said the climate in Taiwan is similar to that in the southern part of the Chinese mainland and at least four breeds of bamboo shoots growing on the island are suitable food for pandas.
But Zhang added that ventilation is important to the air-conditioned panda zoo, which is expected to be built on the island.
The Chinese mainland started artificial reproduction trials in the 1960s and the survival rate of panda cubs has now risen to 90 percent after four decades of tests, according to Zhang.