97,000 evacuated from blizzard-hit Xinjiang
(Xinhua)
Updated: 2006-01-07 14:15
Most parts of northwest China's Xinjiang Uygur Autonomous Region had been hit by continuous heavy snowfall amid drastic temperature drops since Dec. 29 last year, leaving herdsmen and their livestock stranded, local authorities said on Saturday.
According to the regional disaster relief authorities, 97,000 people have so far been evacuated from the blizzard-affected areas, with their livelihood properly arranged.
The authorities said the heavy snowfall has affected some 622,000 people in Altay, Tacheng and Ili prefectures of northern Xinjiang, stranding 224,800 people and killing 9,234 heads of livestock.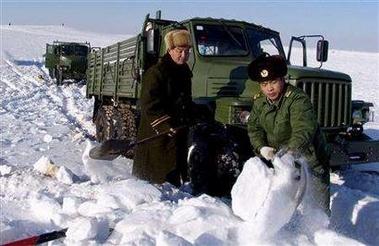 Chinese soldiers clear snow around a stranded truck in northwest China's Xinjiang Uygur Autonomous Region, January 5, 2006. [Reuters]

As two of the worst affected areas, Fuyun and Qinghe of Altay recorded an accumulated snowfall of more than 60 cm, with the thickness of the snow reaching one meter in some mountainous areas.

About 6,000 people suffered from various diseases, and 300,000 heads of livestock faced the threat of starvation, said the regional civil affairs bureau.

The Chinese Ministry of Civil Affairs has sent officials to the region to guide local relief efforts.

The local governments of Tacheng, Bortala, Changji and Hami have allocated cotton tents and clothes to the disaster-stricken areas.

Meteorologists said no more heavy snowfall is expected for the region in the coming week.

Winter is usually a harsh season for Xinjiang's 19.6 million people.