Minister: One-child policy to remain
By Zhang Feng (China Daily)
Updated: 2006-01-07 07:05
China's family planning policy on the mainland will be maintained over the coming years, a senior official said on Friday in Beijing.
Zhang Weiqing, minister of the State Commission of Population and Family Planning, said it was long-term State policy to stabilize the present low-level birth rate and that it would be strictly implemented in the nation's 11th Five-Year Plan (2006-10) and beyond.
Speaking at a national conference on family planning, he refuted rumours which said that China will loosen the present policy and allow all couples to have a second child.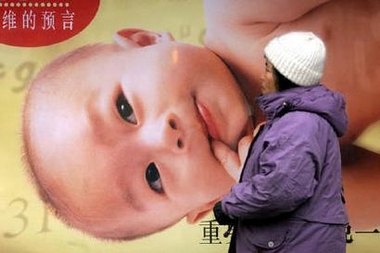 A Chinese woman is seen walking past an advertisement in central Beijing in this January 4, 2000 file photo. China faces a population surge in the next five years and the government will enforce 'one-child' policies to keep the country's numbers at 1.37 billion by 2010, China's top population official said.[Reuters]

Some experts claimed that Shanghai, China's most economically developed city, would allow people to have a second child in 2016, the Shanghai-based Dongfang Morning Post previously reported.

But any adjustment of the birth policy must be carried out by the State Council the central government, and local governments had no rights to make changes, Zhang said.

He added the policy was being maintained as the population was still quickly increasing, posing a great burden to the country's economic development, environment and resources.

Under the current birth rate, the population of China, which has the world's biggest population, is expected to reach 1.37 billion by 2010, 1.46 billion by 2020 and 1.5 billion by 2033.

On the mainland, 90 million families have adhered to the family planning policy.

Not all people, however, are forbidden to have more than one child.

In the minority group regions, there are no restrictions.

And in the country's rural areas, if a couple's first child is a girl, considering that rural families need labourers to help with farm work, the State allows such couples to have a second child.

Many flexible policies have also been made to take care of couples who have special difficulties, such as those whose first child is disabled.

China currently has nearly 1.3 billion people on the mainland. The aim of the family planning initiative is to control the number within 1.37 billion before the end of 2010, Zhang said.

His commission began a nationwide campaign in the middle of last year to protect the rights of girls, rewarding those families which prefer to have only one child even if it is a girl.

More support will be given to those one-child couples whose child passes away before their parents, and to those elderly people in an ageing society now.

The decades-old State policy has helped to reduce a great population burden for the country and created a social atmosphere of having less children.

On the mainland, especially in big cities such as Beijing and Shanghai, many couples volunteer to have only one child in their life, experts say.

However, in rural areas, due to the traditional concept of preferring a boy, many families still strive to bear more than one child.

Some women, particularly those with a low-level education, even choose to have an abortion if they find their first infant is due to be a girl.

(China Daily 01/07/2006 page2)