China's economic development benefits Asia
(China Daily)
Updated: 2006-01-07 07:05
China's rapid economic development has stimulated countries in Southeast and East Asia to improve their economies, Indonesian Foreign Minister Hassan Wirajuda said in Jakarta on Friday.
Speaking at an annual press statement event, the minister said: "The awakening of China's economy, ranking fifth-largest in the world, has helped to provide an opportunity for East and Southeast Asian countries to take benefits to make economic progress."
Wirajuda said that the co-operation between the region and China helps facilitate economic progress and diplomatic ties.
"With the spirit of co-operation, that has been rooted well among the countries, the potential for an emerging threat (of conflict) can decline," he said.
He said Chinese Premier Wen Jiabao had convinced East Asian countries at the East Asian Summit in Kuala Lumpur at the end of last year that China regards the stability of security in the region as an important thing.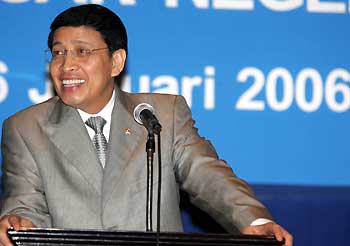 Indonesia's Foreign Minister Hassan Wirajuda smiles after delivering his annual New Year speech in Jakarta January 6, 2006. [Reuters]

The minister said that Indonesia holds to the one-China policy, and that China supports the unitary state of Indonesia.

Indonesian President Susilo Bambang Yudhoyono and his Chinese counterpart, Hu Jintao, agreed to set up a strategic partnership here last April aimed at maintaining and strengthening a long-term mutual co-operation.

The trade value of both countries keeps growing. Statistics show that the trade value recorded US$5.39 billion from January to April 2005, up 40 per cent over the same period in 2004.

The Chinese Government has granted more than 273 million yuan (US$33.7 million) to finance infrastructure projects and provided an US$800 million concessional loan to finance projects such as a steam power plant, double railway tracking and a bridge.

To secure the Malacca Strait, the two countries agreed to co-operate in marine security last April.

The Chinese Government has also taken part in a humanitarian mission in the provinces of Aceh and North Sumatra. The Chinese Government, enterprises and people have donated 400 million yuan (US$49.3 million), including 60 million yuan (US$7.4 million) for reconstruction and rehabilitation after the tsunami swept in Aceh Province, Indonesia.

(China Daily 01/07/2006 page2)