Snow: Trade action against China won't work
(Reuters)
Updated: 2006-01-06 15:15
WASHINGTON - U.S. Treasury Secretary John Snow urged China on Thursday to allow further revaluation of its currency, the yuan, saying it would help world economies adjust from trade and current account imbalances, but warned against retaliatory trade measures.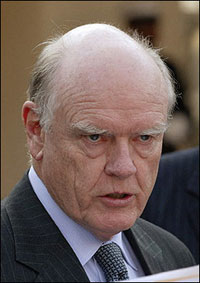 Treasury Secretary John Snow, pictured here in 2005, warned against trade measures against China in a call-in TV program on January 5, 2006. [AFP]

"The trade deficit is influenced by lots of things, differential growth rates, differential savings rates and investment rates and so on. But clearly, getting the yuan more appropriately valued will be helpful to the global adjustment process," he said on CSPAN television.

But Snow defended the administration's decision not to formally cite China as a currency manipulator, saying U.S. pressure on Beijing has been effective and that Chinese policy-makers recognize further revaluation is in their national interest.

"They are putting in place mechanisms to allow their currency to have greater flexibility... so I think we're on the right course," Snow said.

If the United States tried to pressure China to adopt a more flexible currency through trade actions against Chinese imports, it might only result in corresponding measures against the United States and create market uneasiness, he warned.

U.S. manufacturers complain that, even after a modest revaluation of its yuan currency last July, China's currency remains seriously undervalued and that lets China unfairly run up steadily mounting surpluses on its trade with the United States.

"China's behavior is inviting lots of negative reaction in the Congress," Snow said in response to questions after an address to the U.S. Chamber of Commerce.

"They do need to clean up their act on intellectual property, they do need to understand that trade is a two-way street," Snow said. "We're not satisfied one bit on the currency issue, but it's awfully important we resist these protectionist pressures."