Names solicited for giant panda couple to Taiwan
(Xinhua)
Updated: 2006-01-06 11:22
The Chinese mainland is soliciting pet names for the two giant pandas that have been singled out among 23 peers as gifts to the Taiwan compatriots.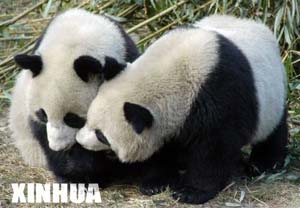 Two pandas play at the China Giant Panda Research Centre in Wolong, Southwest China's Sichuan Province in this undated photo. The pair has been chosen as a goodwill gift to the Taiwan compatriots, the State Forestry Administration said Friday. [Xinhua]
An ideal name will consist of two Chinese characters and fully embodies the aspiration of Chinese compatriots across the Taiwan Straits, said Cao Qingyao, spokesman of the State Forestry Administration, at a press conference Friday in Beijing.
Chinese compatriots on both sides of the Taiwan Straits, overseas Chinese and all friendly personages are welcome to mull names for the two cuddly bears, he said.
The China Wildlife Conservation Association will be responsible for the name mulling project, which will last from now until 8:00 p.m. on January 20.
"We'll shortlist 10 pairs of names which will be publicized at the Spring Festival gala on the Chinese Central Television on January 28, the eve of the Chinese Lunar New Year. The couple will be given the two names that receive most votes from TV viewers," said Cao.
The giant panda couple, namely No. 19 (male) and No. 16 (female), both one year old, were selected from 23 candidates raised in the Wolong China Giant Panda Research Center in southwestern Sichuan Province.
They were known at Wolong as "Xiaoguaiguai", meaning "little darling", and "Huangmao Yatou", translating literally into "chit of a girl".