Panda pair for Taiwan revealed
(Xinhua/chinadaily.com.cn)
Updated: 2006-01-06 10:38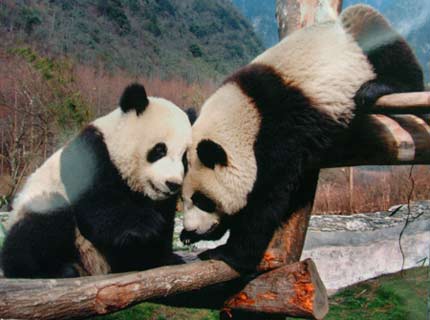 Two pandas play at the China Giant Panda Research Centre in Wolong, Southwest China's Sichuan Province in this undated photo. The pair has been chosen as a goodwill gift to the Taiwan compatriots, the State Forestry Administration said Friday. [Xinhua]
The Chinese mainland unveiled Friday the two giant pandas for Taiwan compatriots.
The panda couple, both one year old, were selected from 23 candidates raised in the Wolong China Giant Panda Research Center in southwestern Sichuan Province, said Cao Qingyao, spokesman of the State Forestry Administration at a press conference in Beijing.
The pair, healthy both physically and mentally, has never suffered from any illness since birth, and shows no abnormality in food-seeking, social and living activities, according to the conference.
Amid worries about the couple's adaptability to the environment in Taiwan, Cao revealed that they can best adapt to environment changes among the candidates.
The conference also kickstarted the soliciting of the couple's names which are required to contain two Chinese characters.
A shortlist of ten will be announced at the China Central Television Spring Festival party which will be live broadcasted nationwide January 28, officials said.
The final two names will be subject to the result of a public vote.
Chen Yunlin, director of the Taiwan Work Office of the Communist Party of China (CPC) Central Committee and the Taiwan Affairs Office of the State Council, announced last May that the mainland would present a pair of giant pandas to Taiwan compatriots as a symbol of peace, unity and friendship.
The giant panda is one of the world's most endangered species and is found only in China. It is estimated that 1,590 giant pandas live wild in China and those in captivity totaled 183 in the Chinese mainland by the end of 2005.