East Sudan conflict may escalate into major war - report
(Reuters)
Updated: 2006-01-06 09:03
The low-level conflict between the Sudanese government and rebels in the east could escalate into full-blown war with disastrous results for civilians in the restive area, a think-tank said on Thursday.
Despite a year-old peace deal between Khartoum and the Sudan People's Liberation Movement (SPLM) that ended two decades of civil war in Sudan's south, conflict simmers in the east and in the western region of Darfur.
The International Crisis Group said the SPLM's planned withdrawal this month from eastern rebel-held areas, under the terms of the peace accord, could spark a deadly struggle for control of one of Sudan's most important economic areas.
"Competition to fill the security vacuum could spark urban unrest, reprisals and worse," the ICG said in a report.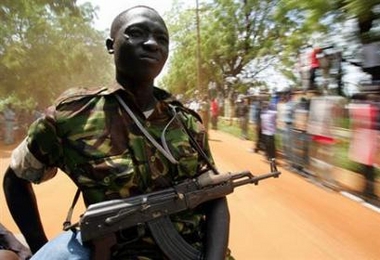 A Sudan People's Liberation Movement (SPLM) soldier keeps watch from the back of a car in Juba, southern Sudan, August 6, 2005.[Reuters]

The eastern rebels have held a small piece of territory close to the border with Eritrea since the late 1990s.

The ICG urged the SPLM to use its influence over its former eastern allies to push for a provisional ceasefire, while pressing the government to hold talks with the Eastern Front rebel alliance.

"Credible negotiations are needed immediately to address the simmering conflict in eastern Sudan," the ICG said, adding that the focus was entirely on Darfur.

"The urgent requirement is to put an end to the piece-meal approach to peacemaking," it added.

Like the insurgents in Darfur, the eastern rebels blame the central government in Khartoum for neglecting their area, which contains Sudan's only port, the main oil pipeline carrying crude exports and Sudan's largest gold mine.

Eastern Sudan's low-level revolt escalated last year, when police fired on a peaceful march killing and injuring dozens of residents in Port Sudan.

Peace talks between Khartoum and the rebel Eastern Front alliance, formed in February 2005 by the Beja Congress and Rashaida Free Lions, are due in Libya later this month.

The alliance has friendly ties with the SPLM and Darfur's rebel Justice and Equality Movement (JEM).