Nanjing pays tribute to 'Conscience of Japan'
By Wu Jiao (China Daily)
Updated: 2006-01-06 06:01
NANJING: As a city closely connected to Japanese war veteran Shiro Azuma who is often referred to as the Conscience of Japan, Nanjing will send a delegation to his funeral today.
"The three will on behalf of both our government and citizens pay homage to the memory of Mr Azuma," said Lin Yi of the Department of Foreign Affairs of the Nanjing Municipal Government.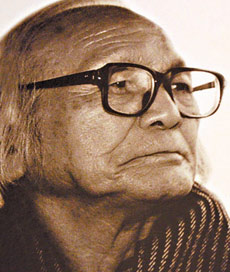 Shiro Azuma: Warrior fighting for justice

The team includes Zhu Chengshan, curator of the Nanjing Memorial Hall of Compatriots Murdered in the Nanjing Massacre, said Sun Wenxue, vice-chairman of the Nanjing People's Association of Friendships with Foreign Countries.

Azuma died on Tuesday at the age of 93 in a Kyoto hospital.

He served in the Japanese Imperial Army in 1937, when invading troops occupied Nanjing, then the capital of China, and launched a six-week massacre. More than 300,000 Chinese, mostly civilians, were slaughtered.

Ridden by guilt, Azuma published his wartime diary in 1987 to make public the atrocities committed by Japanese soldiers.

Azuma was constantly threatened by Japanese rightists and sued for libel charges in 1993. He lost the case but kept telling the truth about the war.

He visited China seven times since 1987 to apologize and help Chinese scholars find evidence of the Japanese soldiers' brutality.

His diary was translated and published in China in 1999.

"He was a warrior fighting for justice. He was a sincere friend of Chinese people," Jing Shenghong, a history professor at Nanjing Normal University who had close contact with Azuma during his research, was quoted by Xinhua as saying.

"His death is a loss for both those in Japan who dared to acknowledge the truth of history and all righteous people," said Zhu Chengshan.

"I used to hate the Japanese so much," said 78-year-old massacre survivor Jiang Fugen. "But when I saw the old Azuma in tears, bowing and kneeling before us in repentance, I couldn't hold back my tears," he told China Daily.

Five of Jiang's family members were killed by the Japanese soldiers during the massacre.

Yin Yueping, the former vice-curator of the Nanjing memorial hall, recalled that during Azuma's first trip to China in December 1987, he was silent most of the time.

"He seldom talked and his eyes were always full of tears. He told me that he felt so guilty while returning to Nanjing, a city where his fellow soldiers killed, looted, raped and burnt 50 years ago," said Yin, who accompanied Azuma during his visits to Nanjing.

"He was really fragile then. But the deep remorse and sense of guilt compelled him to come and apologize time and again. His sincerity would have moved anyone. If most people in Japan were as righteous as Azuma, there would not be any unpleasantness between the two countries," said Yin.

Yin said that Azuma was preparing for his eighth trip to Nanjing before he fell ill last November.