Kate Moss exclusive: Oh, good boy!
(Mirror)
Updated: 2006-01-05 13:39
Patrick Burke, 61, had no idea son Jamie, 20, was spotted snuggling up to the 31-year-old model on a skiing holiday.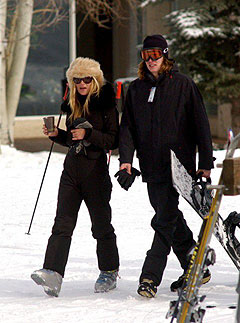 The dad of supermodel Kate Moss's new toyboy yesterday gave his blessing to his son's romance. [Mirror]

But when the Mirror broke the news to him the wealthy property developer, a friend of Richard Branson, chortled: "Good Boy!"

Patrick added: "I was with Jamie at Christmas and on Boxing Day and as far as I knew he went to New York. I don't know anything about it but Jamie's a good lad, he's lovely and he's been well brought up."

Jamie - who wants to set up a rock band - went to ultra-posh ¡ê19,000-a-year Charterhouse public school in Godalming, Surrey. Old boys include musician Peter Gabriel and TV newsman Jeremy Paxman.

Jamie - who left school two years ago - has been on holiday with Kate and her mum in the ski resort of Aspen, Colorado.

Asked if he knew anything about Kate, Patrick chuckled: "I know the name, I have heard about her but I don't know that much about her." Also quizzed about the couple's 11-year age gap, Patrick said: "I can't really comment before I know more about it. I am divorced but Jamie and I get on very well. We are very friendly."

The chartered surveyor split from Jamie's mum, Jane, more than 10 years ago and has re-married.

He lives in a plush London apartment near the Royal Albert Hall while Jane owns a ¡ê1million townhouse in nearby Kensington.

Before that, Jane and Jamie lived on the same street as Australian model Elle McPherson in Notting Hill. Yesterday Jamie's mum refused to comment on the relationship.

Kate and Jamie were introduced by a mutual pal Sir Richard Branson's son Sam, 19. Patrick added: "I know Richard very well."

After leaving school Jamie moved to New York and got a job as a barman. He's also worked as a part-time model.

Meanwhile, friends of Jamie revealed how he enjoyed "wild parties" on holiday last summer on Koh Phangan island, Thailand.

One holidaymaker said: "Jamie really got into the whole Thai party scene and had a great time over there with us."

A source said: "Kate and Jamie hit is off straight away. They are both playing it cool at the moment but there's no doubt he's smitten with her - who wouldn't be?"

Kate has rebuilt her career after being in rehab for cocaine problems exposed by the Mirror. She later dumped junkie rocker boyfriend Pete Doherty, 26.