Water company wins Yellow River pollution suit
(Reuters)
Updated: 2006-01-05 09:30
The first lawsuit seeking compensation for pollution of China's second longest river has been successful, a state newspaper said on Wednesday.
Almost three-quarters of the Yellow River, the cradle of early Chinese civilization, was so polluted it was not safe for drinking or swimming, state media said last year.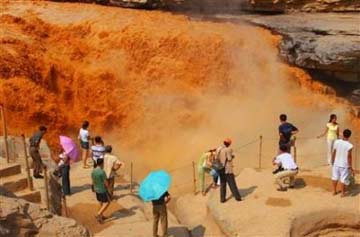 Visitors look at Hukou Waterfall on the Yellow River at Yichuan County, northwest Chinas Shaanxi Province, July 31, 2005. [Newsphoto]
Three companies in the northern region of Inner Mongolia agreed to pay a total of 2.3 million yuan ($285,100) for polluting more than 400 km (240 miles) of the river in 2004, the China Youth Daily said.
But that was less than the 2.89 million yuan the plaintiff, a water company in the Inner Mongolian city of Baotou, was originally granted in compensation, the newspaper added.
After an appeal, the three companies and the water firm agreed via arbitration to the lower figure, the report said.
The river, which supplies water to 12 percent of China's 1.3 billion people and 15 percent of its farmland, has been badly tainted by sewage, industrial waste, fertilizer and other pollutants.
The Yellow River, which gets its name for the yellow-brown silt it carries, has long been known as "China's sorrow" because of its legacy of suddenly shifting course and flooding, killing countless people over the ages.
A million people are believed to have died when the river flooded in 1887 in the world's deadliest natural disaster on record.