Koizumi blames China, S.Korea for bad ties
(chinadaily.com.cn)
Updated: 2006-01-05 07:21
Japanese Prime Minister Junichiro Koizumi Wednesday blamed China and South Korea for worsening relations with Japan, accusing them of interference in Japan's domestic matters.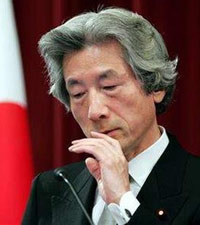 Japanese Prime Minister Junichiro Koizumi is shown in Tokyo January 4, 2006. [Reuters]

The Japanese leader defended his annual visits to the Tokyo-based Yasukuni Shrine which houses 14 Class-A World War II criminals in a nationally broadcast news conference marking the start of the new year, the New York Times reported.

The visits have sparked strong protest and condemnation from neighbouring China and South Korea which the Japanese troops invaded in last century as they considered the shrine a symbol of Japanese militarism throughout Asia.

The leaders of China and South Korea have refused to meet Koizumi in protest over the visits.

"I can't understand why foreign governments would intervene in a spiritual matter and try to turn it into a diplomatic problem," Mr. Koizumi said, adding that he visited the shrine to pray for peace, according to the Times.

"I've never once closed the door to negotiations with China and South Korea," he added.

The remarks drew immediate condemnation from Seoul, with Foreign Minister Ban Ki Moon responding that Koizumi needed a "better understanding of history" and should earn the "trust and respect of other countries," the report said.

Koizumi's comments are expected to add chills to the frozen China-Japan relations. The two neighbours have entered 2006 with a long list of problems weighing down their relationship.

These include differences over the shrine visit and gas and oil development rights in the East China Sea.

No talks have yet been scheduled between the two sides to work out their problems.

The latest problem is an argument over the death of a member of staff at the Japanese Consulate General in Shanghai in 2004.

Japan said the death was linked to action by Chinese security agents, an allegation China said was "vile" behaviour that "smears" Beijing's image.

Foreign Ministry spokesman Qin Gang said last week the death was suicide and China and Japan had clearly defined the nature of the case 18 months ago.