Russia says completes gas cut-off to Ukraine
(Reuters/AFP)
Updated: 2006-01-01 14:49
Russia's Gazprom said on Sunday it had cut exports of natural gas to Ukraine over a price row, and Ukraine's gas company said exports via Ukraine to western Europe could be hit as a result.

A Gazprom spokesman said Russian gas shipped for Ukrainian consumption had been cut by 120 million cubic metres a day.
Russia continued to supply 360 million cubic metres to western Europe via Ukrainian territory, but Ukraine's Naftogaz said those volumes could be affected by the Gazprom supply cut.

Earlier on Sunday Gazprom said it had begun reducing pressure in the pipeline supplying Ukraine after Kiev refused to pay the increased amount Moscow was demanding for its gas and last-ditch efforts failed to resolve the price row.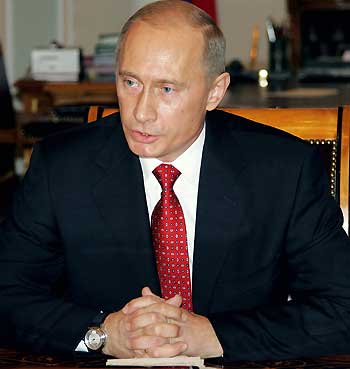 Russian President Vladimir Putin speaks during a meeting of the Security Council at the presidential residence in Novo-Ogaryovo near Moscow December 31, 2005. Putin on Saturday told gas monopoly Gazprom to supply Ukraine with gas at 2005 prices for the first three months of next year if Kiev signed a new contract for market prices from April. [Reuters]

"In this situation, which is the fault of the Ukrainian side, we have been forced to start reducing pressure in the pipeline to Ukraine," Gazprom spokesman Sergei Kupriyanov told a news briefing.

Gazprom supplies 25 percent of western Europe's gas -- most of it via Ukraine. It insisted deliveries to western Europe would not be affected but Italy's gas importer said Gazprom had warned it disruption was possible.

Though Russia says it is purely a business dispute, the gas cut-off has fed concern from Washington to Berlin that the Kremlin is prepared to use its control over its massive energy resources as a political weapon.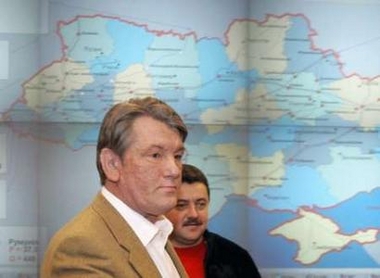 Ukraine's President Viktor Yushchenko (L) and Oleksiy Ivchenko, head of state-run gas provider Naftogaz Ukrainy, stand in the control centre of Ukraine's pipeline operator in Kiev December 31, 2005. [Reuters]

Ukraine's Western-leaning President Viktor Yushchenko has irked many in Moscow by trying to take his ex-Soviet state on Russia's western border into NATO and the European Union.

And that, say Ukrainian officials, is why the Kremlin is punishing Kiev with such a huge price increase while letting more Moscow-friendly ex-Soviet states such as Belarus go on paying far less for Russian gas.

Moscow took over the rotating G8 chairmanship from Britain on New Year's Day. It is the first time Russia has had the role and one of the main themes of its tenure will be security of energy supply.

Russian President Vladimir Putin had offered late on Saturday to postpone the price increases until April if Ukraine agreed to the new terms, but Gazprom said that offer was rejected.

EUROPEAN DISRUPTIONS?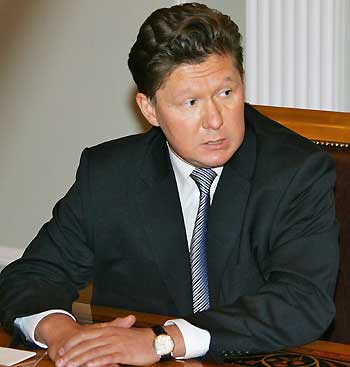 Chief executive of Russian gas monopoly Gazprom, Alexei Miller, speaks during a meeting of the Security Council at the presidential residence in Novo-Ogaryovo near Moscow December 31, 2005. [Reuters]

The reduction in pipeline pressure effectively means the Russian gas allotted for Ukraine's consumption is being taken out of the pipeline system.

Moscow insists this will leave enough gas to continue supplying western Europe as normal -- provided Ukraine does not dip into supplies being pumped further afield. Eighty percent of Russian gas exports to western Europe pass through Ukraine.

Gazprom said if supplies to western Europe are disrupted, it will be Ukraine that is to blame.

"We were ready to meet the Ukrainian people halfway ... We received a refusal," Kupriyanov said. "That means the Ukrainian authorities were determined to have a conflict from the start, and from January 1 to ... start stealing gas from European consumers."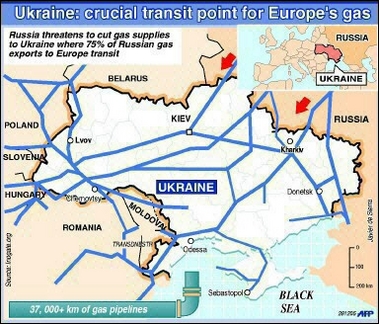 Graphic showing distribution of gas pipelines in Ukraine.[AFP]

Italian oil and gas firm Eni said it had been warned by Gazprom that supplies could be disrupted. Central European states set up contingency plans. Poland said it had at least a week's reserves of gas to guard against supply interruptions.

The EU has called a January 4 meeting of energy officials from its member states to work out a common approach.

Moscow is seeking a rise in the price of gas it sells to Ukraine to $230 per 1,000 cubic metres from the current $50 -- a level that reflects Soviet-era subsidised rates.

Ukraine agrees in principle but wants a transitional period.

Ukrainian officials accuse Moscow of using the issue to punish Kiev for seeking integration with the West a year after mass protests helped propel Yushchenko to a presidential election victory -- beating a Kremlin-backed candidate.

Putin's period in office has been marked by an increasingly assertive foreign policy that appears aimed at regaining some of the influence Moscow has lost in former Soviet republics since the collapse of the Soviet Union in 1991.

Ukraine not feeling gas cut-off yet: ministry official

Ukraine has not yet noticed lowered pressure in its gas pipeline system, a Ukrainian energy ministry spokesman said after Russian energy giant Gazprom announced it had started to cut off supplies to Ukraine.

"We haven't felt anything yet, everything's fine here," a Ukrainian energy ministry official told AFP, without providing further details.

Ukrainian authorities have not published an official comment on Gazprom's announcement.

Officials said earlier that the country had enough reserves to ensure ordinary people do not suffer during the cold winter months but some companies could be affected.