Premier Wen visits quake-hit area in Jiangxi
(Xinhua)
Updated: 2006-01-01 10:32
Chinese Premier Wen Jiabao visited people in the earthquake-hit area in east China's Jiangxi Province before the coming New Year of 2006.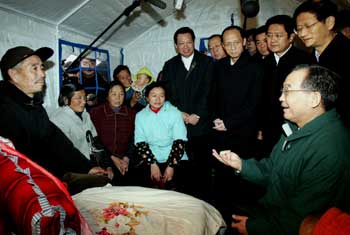 Chinese Premier Wen Jiabao meets the local residents at a camp in Jiujiang county in Jiangxi Province on Friday, Dec. 30, 2005. [Xinhua]
An earthquake measuring 5.7 on the Richter scale hit the cities of Jiujiang and Ruichang in east China's Jiangxi Province on Nov. 26, killing 13 people and destroying many buildings.
The quake has caused about 3 billion yuan (370.37 million US dollars) of economic losses and left about 100,000 people homeless.
Wen entered a camp shared by two families in Jiujiang Friday morning. "Take care of yourselves, and prevent the elders and children from cold," he told the hosts Wang Zhangpings and Li Changxin.
"The government has sent rice, cooking oil and water supply to us and we have no problem of the basic living," the premier was told when he came into another camp where villager He Jingui dwells,
Wen also went to the clinic to see the patients.
He appreciated the developer's efforts to reduce the construction cost when he visited a house-building site in Ruichang in the afternoon. The premier asked the local government to call on more construction companies to participated in building houses for the disaster-ridden people.
"The quality of the houses must be ensured," he said.
Wen visited the Second Primary School of Ruichang, in which 500 pupils among the total 1,800 have classes in camps.
"Your hometown's future is up to you, I hope you will study hard," Wen said to the pupils.
He asked the local government to place more emphasis on the campus rebuilding to let students return as soon as possible.
Friday evening, Wen asked the local governments to take better care of the lives of the people at a work conference.