Russia says it will cut off Ukraine gas
(Reuters)
Updated: 2006-01-01 09:49
Russia said on Sunday it would cut off gas supplies to Ukraine within hours over a price row that strikes at the heart of relations between the two ex-Soviet states and could affect deliveries to western Europe.
A declaration by the Russian gas monopoly Gazprom, likely to be viewed with concern from Washington to Berlin, came soon after the apparent collapse of talks at President Vladimir Putin's residence outside Moscow.
"As a result of a meeting held by President Putin, Gazprom sent a signed contract for gas supplies to Ukraine for 2006," Gazprom spokesman Sergei Kupriyanov told Reuters.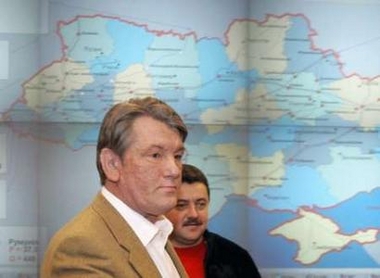 Ukraine's President Viktor Yushchenko (L) and Oleksiy Ivchenko, head of state-run gas provider Naftogaz Ukrainy, stand in the control centre of Ukraine's pipeline operator in Kiev December 31, 2005. [Reuters]

"The new contract contained everything suggested by Putin -- supplying gas to Ukraine in the first quarter at old prices and switching to European prices from the second quarter. Ukraine has turned our proposal down. It means the plan to cut supplies from...10 o'clock (0700 GMT) is still in force."

A spokesman of Neftogaz Ukraine, giving some measure of the confusion of the day, had said moments before that the talks had ended with Moscow agreeing to continue deliveries at present prices for the first quarter of the year. He made no mention of any conditions or Russian objections.

Russia, which supplies 25 percent of western European gas, is due to take over chairmanship of the G8 in January and one of the main themes of its tenure will be security of energy supply. Any suggestion of Moscow using gas supply as a poltical weapon will cause alarm in the West.

West European states, drawing 80 percent of their Russian deliveries from the same pipeline crossing Ukraine, have expressed concern.

The danger, in theory, is that Ukraine could nonetheless tap off gas to which it feels it is entitled, thus effectively reducing the flow onwards to western Europe.

Kiev says it would not draw on west European supplies, but says Russia must maintain sufficient pressure, or a high enough gas flow, in the system to keep it operating. Moscow insists it can cut Ukrainian gas while safeguarding supply to others.

Moscow seeks a rise in prices to $230 per 1,000 cubic metres from the current $50 -- a level that reflects Soviet-era subsidised rates. Ukraine agrees in principle but wants a transitional period and suggests the Kremlin appraoch mirrors disapproval of Kiev's pro-Western government.