Cuba's Castro, Bolivian's Morales say co-op to bloom
(AP)
Updated: 2006-01-01 09:28
Cuban President Fidel Castro and Bolivian President-elect Evo Morales say cooperation between their countries will bloom despite U.S. worries about more nations allying with Cuba and a growing leftward tilt in Latin American politics.
Morales on Saturday ended a visit to Cuba that lasted less than 24 hours but underscored his desire to boost ties with Castro and other left-leaning leaders in the region.
During the visit the two men announced a 30-month plan to erase illiteracy in the South American nation as Cuba moves to increase hemispheric cooperation without U.S. influence.
Cuba also agreed to offer free eye operations to up to 50,000 needy Bolivians with vision problems, as well as 5,000 full scholarships for young Bolivians to study medicine on the island.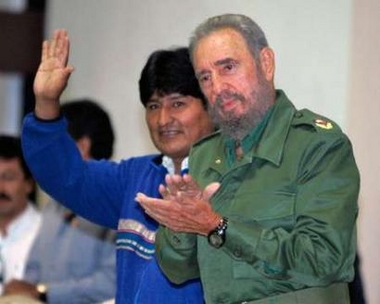 Bolivian President-elect Evo Morales (L) and Cuban President Fidel Castro greet the audience during a meeting with Bolivian students in Havana December 30, 2005.[Reuters]

Castro anticipated that Washington would not welcome him gaining another close ally in South America, where he already boasts a strong friendship with Venezuelan President Hugo Chavez.

"Could it be that the government of the United States feels hurt that Cuba cooperates with a brother nation?" Castro asked. "Does that offend the U.S. government ... is it antidemocratic, is it a crime?"

Morales said he would not allow himself to be pressured by the United States while in power.

"I never had good relations with the United States, but rather with the American people," the Bolivian president-elect said.

Morales, a coca farmer, says he won't resume the U.S.-backed coca eradication campaign in Bolivia. He has vowed to crack down on drug trafficking while promoting legal markets for coca leaf, which is used to make cocaine but has many legal uses in Bolivia.

Castro and Venezuela's Chavez over the past year have launched plans to share programs in social cooperation among countries in the region while rejecting a U.S.-backed plan for hemispheric free trade. Washington has expressed concern about their growing political alliance.

Speaking to about 400 young Bolivians already studying here under full scholarships from Cuba's communist government, the two leaders did not spell out the details of the literacy plan.

But in the past Cuba has launched similar programs in poor areas of other countries, most recently Venezuela, sending Cuban advisers with educational materials to work with local instructors to teach reading and writing to disadvantaged people.

Cuba carried out its own literacy program in the first years after the 1959 revolution that brought Castro to power, sending young teachers into poor regions in the island's mountains and other remote areas.

"We have agreed to the first measures of cooperation," Morales said, adding that his meetings with Castro had been "an encounter of two generations in the struggle for dignity ... of two revolutions."

Castro is the first head of state the Morales has visited as he starts reaching out to other leaders even before taking office on January 22.

Morales won the presidency December 18 with nearly 54 percent of the vote _ the most support for any president since democracy was restored to Bolivia two decades ago.

The 46-year-old president-elect left Cuba to be back in Bolivia in time for a New Year's Eve celebration in his hometown of Orinoca. On January 3, he departs on a world tour that will include visits to Spain, France, Brussels, Holland, South Africa, China and Brazil. He will hold his first meetings in Spain on January 4.