President Hu delivers New Year address
(Xinhua)
Updated: 2006-01-01 08:34
Chinese President Hu Jintao reiterated China's strong commitment to peaceful development in his New Year Address broadcast Saturday to domestic and overseas audience via state TV and radio stations.
"Here, I would like to reiterate that China's development is peaceful development, opening development, cooperative development and harmonious development," Hu said.
"The Chinese people will develop ourselves by means of striving for a peaceful international environment, and promote world peace with our own development," Hu said in the address broadcast by China Radio International, China National Radio and China Central Television.
He said the Chinese people are willing to join with peoples of all nations in the world to promote multilateralism, advance the development of economic globalization toward common prosperity,advocate democracy in international relations, respect the diversity of the world and push for the establishment of a new international political and economic order that is just and rational.
He pledged that China will adhere to its fundamental national policy of opening to the outside world, continue to improve the investment environment and open the market, carry out international cooperation in a wide range of areas and seek to attain mutual benefits and win-win results with all countries in the world.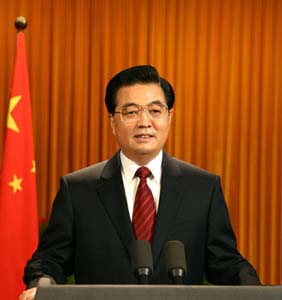 President Hu Jintao delivers a New Year message. [Xinhua]

He mentioned in particular that China will do its best to help developing countries accelerate development and help people suffering from war, poverty, illnesses and natural calamities in the world.

Fast, sound development in 2006

China will strive to achieve fast and sound economic and social development and enable all people to enjoy the fruit of reform and development in 2006, Chinese President Hu Jintao said in a New Year Address made on Saturday.

The country will continue to make the "scientific concept of development" the general guideline of the overall economic and social development in 2006, the first year of China's 11th Five-Year Plan (2006-2010).

"We'll make efforts to accelerate the pace of reform and opening-up, enhance capability in independent innovation, give impetus to the shift in economic restructuring and in the mode of economic growth and improve the quality and results of economic growth," Hu said in the New Year address, which was broadcast on the China Radio International, China National Radio and China Central Television on Saturday.

In 2005, Hu said, people of all ethnic groups in China have worked with one heart and one mind to push forward, in an all round way, economic, political and cultural development and the building of a harmonious society.

The past year saw relatively faster economic growth, better results, stable prices and stronger dynamics. Social undertakings of all sorts made steady progress and people's livelihood improvedstep by step, Hu said.

Internationally, Hu said, China actively developed friendly cooperative relations with all countries in 2005 and made endeavors to the solution of major international and regional issues. In so doing, China has played a constructive role in safeguarding world peace and promoting common development.