Bomb blast kills 8 in Indonesian province
(AP)
Updated: 2005-12-31 15:13
A bomb ripped through a crowded meat market in an Indonesian province that has been plagued by sectarian violence, killing at least eight people Saturday and wounding 45, officials said. Many of the victims were believed to be Christians.
The bomb went off in a slaughterhouse that also sold meat directly to the public in the town of Palu on Sulawesi island. It was packed with people buying pork for Saturday night's New Year celebrations, said Brig. Gen. Oegroseno, the police chief of Central Sulawesi province.
The bomb appeared to be a homemade device, he said, loaded with ball bearings and nails to maximize the number casualties.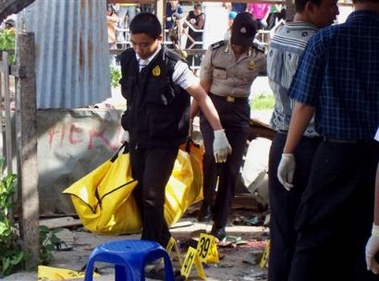 Police officers carry a body bag containing the body of a bombing victim at a market in Palu, central Sulawesi, Indonesia, Saturday, Dec. 31, 2005.[AP]

"The explosion was so loud, I couldn't hear for a couple of seconds," said Tega, a resident who lives nearby and uses only one name, like many Indonesians. "I ran out of my house and saw bodies lying around."

Television footage showed police carrying bloodied bodies into ambulances. One man, apparently unhurt, was holding his head in his hands and screaming. Hospital workers and intelligence officials said at least eight people died and Oegroseno said another 45 were wounded.

Authorities had repeatedly warned in recent days that al-Qaida-linked terrorists were plotting attacks in Indonesia over the Christmas and New Year's holidays, prompting the government to deploy thousands of troops to guard churches and places where foreigners gather.

President Susilo Bambang Yudhoyono condemned the blast, and urged police to investigate whether it was linked to other attacks on Christians in the province earlier this year, said his spokesman Andi Mallerangang.

Indonesia is the world's most populous Muslim nation, and most people practice a moderate form of the faith. But attacks against Christians have increased in recent years amid a global rise in Islamic radicalism.

Central Sulawesi was the scene of fierce battles between Muslims and Christians in 2001 and 2002 that killed about 1,000 people, and violence has flared anew in recent months. Christians make up about half the population in Sulawesi.

In October, unidentified assailants beheaded three Christian high school girls in Poso, east of Palu. In May, two bombs in the Christian-dominated town of Tentena killed 20 people. Police have questioned several suspects in those attacks, but have not formally brought charges against anyone.

One Christian clergyman said Saturday he was losing patience.

"Whenever an incident takes place, senior officials ask us to tell the people to remain unprovoked," said Rinaldy Damanik, leader of the Synod Churches of Central Sulawesi. "When will the authorities be able to reveal the barbaric perpetrators in the province?"

Security officials and former militants told The Associated Press in recent interviews that terrorists linked to the Jemaah Islamiyah terror network were behind the renewed attacks on Christians on the island.

Jemaah Islamiyah, which has ties to al-Qaida, has been blamed for a series of bloody bombings in Indonesia since 2000, including two strikes on Bali that together killed 222 people, many of them foreigners. It is also accused in Christmas Eve church bombings five years ago that left 19 dead.

Maj. Gen. Firman Gani, the Jakarta police chief, said last week that Jemaah Islamiyah terrorists might use the holidays to retaliate for the November death of bomb-making expert Azahari bin Husin, who was gunned down in a police raid.

On Christmas Eve, bomb squads searched for explosives at churches in the capital Jakarta and its satellite cities, where thousands gathered to worship. Security forces also tightly guarded dozens of churches on Sulawesi.