Russia keeps pressure on Ukraine over gas
(AP)
Updated: 2005-12-31 10:01
Russian authorities refused to ease their tough stance in a dispute with Ukraine over gas prices Friday, issuing a stern new threat to halt supplies to its neighbor on New Year's Day and criticizing Kiev's call for more time to reach a deal.
Ukrainian leaders, meanwhile, tried to reassure the ex-Soviet republic's 48 million people they will not be left in the cold by the conflict that has underlined the political tension caused by the election of a Westward-leaning president in Ukraine last year.
The chief of Russia's natural gas monopoly, OAO Gazprom, reiterated that it will halt supplies to Ukraine on Sunday morning unless a new contract is signed with its Ukrainian counterpart.
"The actions will be precise and resolute," Alexei Miller said on Gazprom-owned NTV television. The station cut into a news broadcast to show Miller live.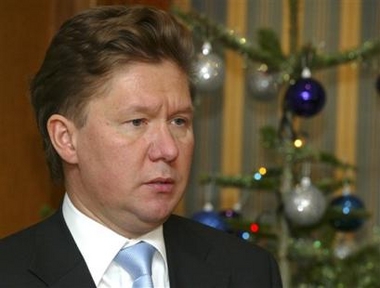 Russia's natural gas giant Gazprom chief Alexei Miller speaks to press at his headquarters on Friday, Dec. 30, 2005.[AP]

Russian authorities are demanding that Ukraine pay $230 ¡ª more than four times the current price of $50 ¡ª per 1,000 cubic meters of gas. Ukraine wants an increase that would bring what it pays closer to world prices phased in gradually and says $75 to $80 is a fair price for now.

The price Russia wants Ukraine to pay is far higher than it is charging other former Soviet republics ¡ª even those that are seeking, like Ukraine, to shake off Russian influence and integrate with the West.

Nadia Kazakova, an oil and gas analyst at Alfa Bank in London, said West European countries would pay an average of $240 per 1,000 cubic meters next year. Hungary is paying $240 for Russian gas, and Romania will pay about $280 starting next year, officials said.

"There is room for negotiation between $230 and (an) actual or reasonable or market price which Ukraine might be willing to pay," Kazakova said. "Ultimately I think there will be some resolution."

But with no sign of progress toward a deal, Ukrainian President Viktor Yushchenko proposed Friday that Russian President Vladimir Putin order both countries' companies to sign a contract in the first 10 days of January, freezing prices until then, Yushchenko's office said.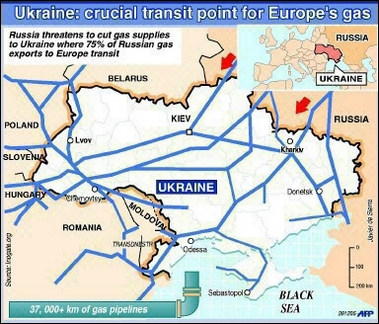 Graphic showing distribution of gas pipelines in Ukraine.[AFP]

Putin's press service said the Kremlin had not received the telegram in which Yushchenko made the proposal, and there was no immediate reaction from the Russian leader. But Gazprom said it feared the proposal would lead to indefinite delays.

Nations elsewhere in Europe get gas supplies through Ukraine, and Gazprom has informed its European customers in a letter that supplies could be restricted if Kiev decides to take gas meant for transit further west.

The letter guaranteed delivery of all contracted gas as far as the Russian-Ukrainian border, but added that Gazprom "cannot completely exclude the risk of unsanctioned removal of gas from the transit system by the Ukrainian side," Gazprom spokesman Sergei Kupriyanov said.

Yushchenko's office said Ukraine's Cabinet had introduced measures Friday that would ensure the unhampered flow of gas into Ukraine and its transit to EU countries until a new contract is signed. But Prime Minister Yuriy Yekhanurov has said Ukraine has the right to take 15 percent of shipments through its territory as transit fees.

The EU on Friday called a special meeting of European energy officials for next week to consider any disruption of supplies to Western Europe.

EU Energy Commissioner Andris Piebalgs convened a meeting of the EU's Gas Coordination Group next Wednesday in Brussels "to deal with all eventualities."

Meanwhile, analysts said a Russian bid Thursday to buy up natural gas from another major supplier to Ukraine, Turkmenistan, would leave the Central Asian nation with little gas to sell to Ukraine.