Gay Chinese a presence but discreet in Hong Kong
(Shanghai Daily)
Updated: 2005-12-31 09:26
Jervois Street runs through what looks like an ordinary Hong Kong neighborhood with sleepy car repair shops and tiny noodle eateries.
But as night falls it gets a makeover, becoming one of the few places in town where the gay community can be seen relaxing and partying in public.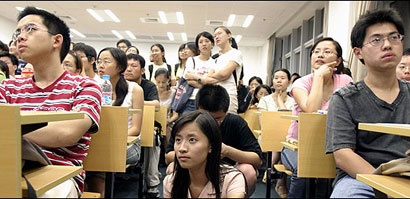 A class on gay and lesbian studies at Fudan University in Shanghai has attracted an overflow crowd. The class is the first ever of its kind in China. [The New York Times]


Every weekend, two trendy gay bars - probably the first such establishments in Hong Kong to open on the street front - draw flashy cars, celebrities, designers and masses of men in silk shirts and tight tank tops. As the evening wears on, the surging crowds spill out on the sidewalk, drinking and socializing.

Hong Kong may be among the most cosmopolitan of Asian cities, but its pink economy remains largely underground.

Unlike Jervois Street, most of the sprinkling of openly gay or gay-friendly clubs and karaoke bars are discreetly tucked away in alleyways or upstairs of buildings.

Like the clubs they patronize, most homosexuals in Hong Kong prefer not to draw attention to their sexual preference, despite apparently improving tolerance and emergency of the gay rights movement over the past decade or so.

In the genteel Boris and Matthew bar, many youths leaning against each other and hunching over drinks intimately will have to hide their sexuality from the world. But Herman Au is an exception.

The tanned, fashion-savvy 24-year-old event organizer said he came out to his family a year ago, and has never suffered any discrimination in the workplace.

"My whole company knows. I don't ever have to hide myself," he said, admitting however that his parents are "definitely more open-minded" than most.

Even so, Au said he has had to coax his mother into accepting that she would never have any grandchildren. The family is the single most important unit of society in Chinese culture, and knowledge that their sons will never form a family or fulfill their perceived duty in continuing the family line is immensely difficult for most Chinese parents to accept.