Lucky puppies worry animal welfare agents
(Shanghai Daily)
Updated: 2005-12-31 09:06
The approaching Year of the Dog is good news for people selling pet puppies, but is raising concerns among those who take care of strays.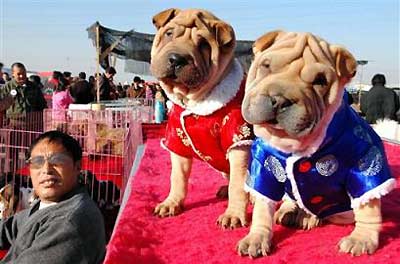 A vendor sells dogs dressed in Chinese style clothing at a dog market in Tongxian, a suburb of Beijing, Saturday, Nov. 20, 2004. The three-month-old puppies were selling for 1200 Yuan (US$145.00) each. According to state media reports, one in 10 Beijing families keeps a pet - despite high annual registration fees and restrictions on when they can be walked in the streets. [AP]


People who sell dogs in wet markets, pet stores and online say sales have been booming as the end of the year approaches. Some Shanghai pet markets say dog sales are up by about 30 percent from normal, and their stores are packed with people looking to pick up a puppy.

Many customers say they think it would be lucky to start raising a dog in the Year of the Dog.

With sales booming, prices are also on the rise for many species of dogs.

Those who take care of abandoned or stray pets in the city say they are worried many people will quickly grow tired or raising a puppy and abandoned their new dog in a few months time.

"I am deeply concerned about the situation of those dogs that are taken home by owners who only think it lucky to have a puppies in the Year of the Dog and make a quick decision at the market," said Zhou Min, one of the founders of the city's largest animal welfare NGO, the Shanghai Pets Aid Center.

Many pet owners have dropped off dogs they no longer want at the center, saying they are strays they picked up on the street. Depressed by the cold hearts of those dog raisers, Zhou said she had little confidence in the fate of many of the dogs who were picked up and taken home as the result of a quick decision to bring auspice to its future family in the new year.

"Besides, many puppies sold in some local markets are taken from out-of-town underground sources. The bad condition on the long journey caused many of them to become deeply sick or in poor condition," she said.

"The dog dealers have their ways to make them look energetic in front of potential customers. I am worried some of their owners would choose to leave them on the street in order not to pay the expensive medical bills for their treatment after finding they are sick," she said.

"They could also be abandoned after the new owners lose interest or patience in looking after them."

To deal with the possible increase in the number of abandoned dogs, the center plans to send food to stray dogs and cats living around residential complexes in Minhang District, where the shelter is based, after the Spring Festival.

"I believe there will be an increase in stray dogs after the Spring Festival," Zhou said.

"Let's prepared for the worst and wish for the best then."