Iraqis line up for gas; violence kills 17
(AP)
Updated: 2005-12-31 08:39
Two more U.S. soldiers were killed in Iraq as the year wound down Friday, putting the American military death toll at 841 so far ! just five short of 2004's lost lives despite political progress and dogged efforts to quash the insurgency.
In Baghdad, hundreds of cars lined up at gas stations as word spread that Iraq's largest oil refinery shut down two weeks ago because of threats of insurgent attacks. Nearly three years after the U.S.-led invasion, a fuel crisis again threatens to cripple a country with the world's third-largest proven oil reserves.
Violence went on unabated Friday, with at least 17 people killed in shootings, mortar attacks and a suicide car bombing in Baghdad. In the most serious incident, police said nine people were killed in a drive-by shooting ! apparently because they were drinking alcohol in public. Two Iraqi Army captains were also gunned down in the town of Dujail, north of Baghdad, as they drove home.
A senior Sudanese diplomat said his country closed its embassy in Baghdad in an effort to win the release of six kidnapped employees ! including one diplomat.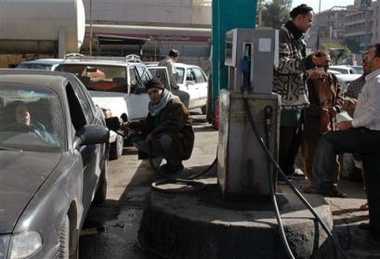 Motorists queue for petrol at a gas station in Baghdad, Iraq, Friday, Dec. 30, 2005. [AP]

"A statement was issued by the Sudanese government to close the embassy in Iraq to win the release of our kidnapped citizens," Charge d'affairs Mohamed Ahmed Khalil told The Associated Press. He added that the embassy's 12 employees would leave Monday.

Al-Qaida in Iraq had threatened Thursday to kill five Sudanese on Saturday unless the country removed its diplomatic mission from Iraq.

The Sudanese Foreign Ministry reported on Dec. 24 that six of its embassy employees were kidnapped ! including the mission's second secretary, Abdel Moneam Mohammad Tom. It was not clear if the al-Qaida statement was referring to the same group.

The two new deaths of U.S. military personnel were announced Friday by the American military. A bomb killed one soldier when it struck his vehicle in Baghdad on Friday, while the second soldier was shot and killed in the western city of Fallujah.

Their deaths brought the number of U.S. military members killed so far in 2005 to 841, of whom 64 died in December. A total of 846 troops died in 2004 and 485 in 2003. The worst month in 2005 was January with 106 fatalities, followed by November with 96 and August with 85.

The United States hopes that as more Iraqi police and army forces are trained, they will slowly take over responsibility for security from American troops. Much of that expectation hinges on the ability of Iraq's ethnic and sectarian groups to form a broad-based government that will have the legitimacy to deflate the Sunni Arab-led insurgency.