Mainland bids farewell to top negotiator
(Reuters/China Daily)
Updated: 2005-12-30 15:34
Hundreds of people turned out on Friday for the funeral of Wang Daohan, the Chinese mainland's top negotiator with Taiwan.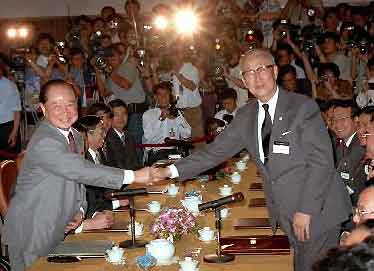 Wang Daohan (L) shakes hands with Koo Chen-fu on April 27, 1993. [Xinhua/file]
Former Chinese president Jiang Zemin, who once considered Wang a mentor, and incumbent Vice President Zeng Qinghong attended the funeral.
Wang Daohan, president of the Association for Relations Across the Taiwan Strait (ARATS), died on Saturday in Shanghai at the age of 90. His replacement has yet to be named.
Wang's death coincided with the one-year anniversary of Koo Chen-fu's death in Taiwan, according to Chinese lunar calendar.
Koo, chairman of the Taiwan-based Strait Exchange Foundation (SEF), and Wang in his role as president of ARATS made a milestone negotiation in Singapore in 1993, setting up the basis for any future dialogues between the two organizations.
The groups reached a consensus that both would give their own oral statements on the view that "both sides across the Straits adhere to the one-China principle." This was later widely known as the '92 Consensus'.
Wang and Koo reached agreements on economy, technology and cultural communications between both sides of the Taiwan Straits. The two maintained a very close friendship through the years, sharing the same love for traditional Chinese culture, especially Peking Opera. Koo used to send videos of himself singing Peking Opera to Wang.
In 1998, Koo came to Shanghai and held the second round of negotiations with Wang.
Koo's widow Yen Cho-yun also attended Friday's funeral.
One of Wang's nephews, a 46-year-old sculptor who lives in Beijing, referred to his late uncle as a "gentle and kind man."
"He was always looking out for the welfare of the country and not for himself," Wang's nephew, Wang Zhao said.
Born in 1915 in the eastern province of Anhui, Wang rose to prominence during his tenure as mayor of Shanghai from 1980 to 1985 before going on to teach economics at major universities in both Shanghai and Beijing.