Family planning policy becomes controversial topic
(Xinhua)
Updated: 2005-12-30 09:50
Future destiny of China's once-ambitious family planning policy has become a controversial topic in the academic circle.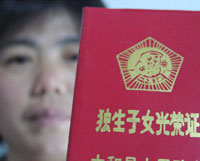 A woman shows her one-child certificate in Fuyang, Anhui Province in this November 14, 2005 photo. Some of nouveau riches choose to have their second or third child by paying a handsome amount of fine, challenging the country's basic policy on family planning. [newsphoto]

At a recent forum on China's population and economy hosted by the Beijing University, the family planning policy was challenged by a number of Chinese scholars and government officials.

An unanimous opinion from the forum showed China should mull its population policy in a more scientific way and seek a proper resolution.

Existing population structure remains a challenging issue.

Since China launched its family planning policy three decades ago, most couples have only one child. Disputes are now raised across the country over the expanding gray generation and skewed gender ratio.

Official statistics showed that China now ranks in the low-birth-rate" club with a population natural growth rate of 0.9 per thousand.

At the same time, people above age 65 make up 7.6 percent of China's total population, a sign of a quicker pace into an aging society.

The gender gap among children born in China has been widened in recent years. Figures show that the average ratio of boys to girls was 117 to 100, exceeding the norm of 105 to 100.

Chinese economists said at the forum that the imbalanced population structure and aging population are likely to be a bottleneck of China's long-term economic growth and bring about a series of economic and social problems.

"With a birth rate drop, China's labor force may stabilize at its height in 2013 and then gradually drop year by year", said Cai Fang, head of the Population and Labor Economy Institute under the Chinese Academy of Social Science (CASS).

Cai said China's abundant labor force once was regarded a "big bonus" to the country's high-speed economic growth, with its contribution to the per capita gross domestic product (GDP) exceeding 25 percent in the past two decades.

"But now the bonus is decreasing," said Cai, adding that the contribution of population to China's GDP will also be reduced as the labor force structure changed.

Proper readjustment is necessary.

Jan. 6, 2005 was marked in China as the "1.3 billion populationday", when its 1.3 billionth citizen was born.

China's one-child policy has successfully reined in its population growth and helped prevent 300 million births -- about the size of the U.S. population -- postponing the arrival of 1.3 billion population by four years.

However, Cai said, it is necessary for China to make a proper readjustment of its current population policy when a reasonable population structure becomes more important than the pressure brought by population growth.

Quite a number proposals to solve population problems were delivered at the forum such as raising the quality of China's labor force to make up the decrease in the quantity of labor force,and postponing the age of retirement.

But most experts focused their attention on whether China should relax its strict family planning policy, changing the current policy of one-child-for-per-couple to the policy of two-children-for-per-couple.

Professor Zeng Yi from the China Economic Study Center of the Beijing University proposed a two-children policy in future at the forum.

Zeng suggested that women should be allowed to have their second babies at an age between 32 and 34.

According to Zeng, his proposal may help slow down China's pace into an aging society and postpone the arrival of a population peak of 1.48 billion people to the year 2038.

Argument: a risk cost of readjustment

Zeng's proposal has aroused objection from a group of Chinese scholars and officials. Renowned Chinese economist Fan Gang said a relaxed family planning policy in China will lead to an additional population of 100 million or 200 million, a big challenge to the employment.

Some other experts said the readjustment will surely bring about an unexpected expansion of population in China, which will terminate the low-birth rate.

Yu Xuejun, director of the Policy & Law Department of the State Family Planning Commission, said at the forum that the readjustment will be based on the cost of increased population, which may result in many new problems including environment, employment and social securities.

The government is greatly concerned with the balance between the advantage and cost of an readjustment to the family planning policy, said Yu, noting that it needs a scientific decision in China on whether the family planning policy should be changed or not.

China launched the family planning policy in late 1970s, which requires one child for one family in cities, and allows two children for one family in rural areas if the first child of the family is a girl. The policy also lays no restriction to the number of children in families of ethnic groups.