Wang remembered for enhancing ties
By Zhang Kun (China Daily)
Updated: 2005-12-30 05:54
The funeral of Wang Daohan, president of the mainland-based Association for Relations Across the Taiwan Straits (ARATS), will be held today in Shanghai Longhua Funeral House.
Some of the top officials are expected to attend to bid Wang farewell.
He died in Shanghai's Ruijin Hospital on December 24, aged 90.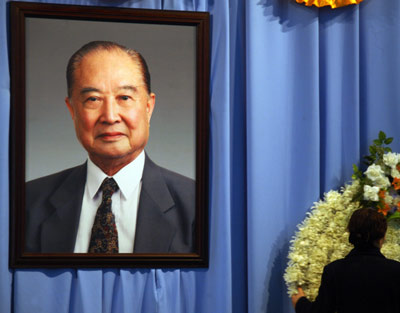 Wang Daohan's funeral will be held in the Shanghai Longhua Funeral House Friday December 30, 2005. [newsphoto]
His death coincided with the one-year anniversary of Koo Chen-fu's death in Taiwan, according to Chinese lunar calendar.
Koo, chairman of the Taiwan-based Strait Exchange Foundation (SEF), and Wang in his role as president of ARATS made a milestone negotiation in Singapore in 1993, setting up the basis for any future dialogues between the two organizations.
The groups reached a consensus that both would give their own oral statements on the view that "both sides across the Straits adhere to the one-China principle." This was later widely known as the '92 Consensus.
Wang and Koo reached agreements on economy, technology and cultural communications between both sides of the Taiwan Straits. The two maintained a very close friendship through the years, sharing the same love for traditional Chinese culture, especially Peking Opera. Koo used to send videos of himself singing Peking Opera to Wang.
In 1998, Koo came to Shanghai and held the second round of negotiations with Wang. "Two sides of the Straits don't have to go to a third place to exchange idea. It (the meeting) was a great encouragement for (further enhancing) the cross-Straits communications," the then Kuomintang President Lien Chan commented on the 1998 negotiations.
Having worked on promoting cross-Straits communications for years, Wang had a life-long regret of not visiting Taiwan himself.
He Pengnian, board chairman of Shanghai Airlines, recalled that when the airline was founded in 1985, Wang, the mayor of the time picked a symbol of a red crane on white background for its planes, in the hope that Shanghai Airlines could achieve non-stop flights to Taiwan.
Last January, when Shanghai Airlines was included among the mainland airline companies to launch chartered flights to Taiwan during the Spring Festival, Wang had his secretary contact various institutions about the flight schedules, sending words to Shanghai Airlines that he wished the company to carry out the first flight.