Rural areas 'must be strengthened'
By Liu Li and Xiao Zhao (China Daily)
Updated: 2005-12-30 05:50
Rural regions and agriculture are the weakest links in China's economic and social development and they must, therefore, be continuously strengthened.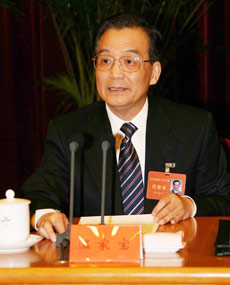 Premier Wen Jiabao speaks at the Central Conference on Rural Work in Beijing December 29, 2005. [Xinhua]

That was the message from a two-day Central Conference on Rural Work which ended yesterday in Beijing.

It coincided with the abolition of China's 2,600-year-old agricultural tax from Sunday, the first day of 2006.

The annual central rural meeting, presided over by Premier Wen Jiabao, concluded that agricultural and rural development is "an uphill climb."

In light of the difficulty, the country must channel more construction funds to the countryside and reinforce rural infrastructure.

In particular, more investment must go to rural education, health and other social undertakings, a statement from the meeting said.

It said advances should be made in comprehensive rural reform, centred on the reform of the rural tax and fee system, and steady progress must be achieved in grain production to ensure food security.

China's grain production is expected to increase to 484 million tons in 2005, 14.5 million tons more than last year, Minister of Agriculture Du Qinglin said on Wednesday

But 495 million tons of grain will be needed in 2006, the minister was quoted by People's Daily as saying yesterday.