Military diplomacy helps China's peaceful rise
(Xinhua)
Updated: 2005-12-29 21:03
China's military diplomacy, as part of the country's overall diplomacy, has contributed to building a favorable international security environment for the country's peaceful development, an article said Thursday.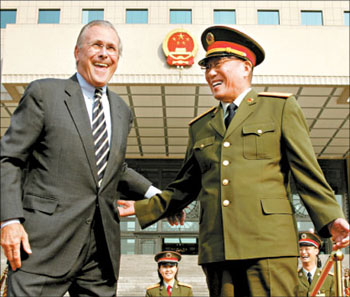 US Defense Secretary Donald Rumsfeld (L) and Chinese Defense Minister Cao Gangchuan share a light moment as they attend a welcoming ceremony at the Chinese Defense Ministry in Beijing October 19, 2005. [Reuters]
The article on the Liberation Army Daily, the newspaper of the Chinese People's Liberation Army (PLA), summarized the characteristic of China's military diplomacy in 2005, saying it is more "active" and "pragmatic".
Over the year, the Chinese armed forces have made remarkable achievements in its bilateral and multilateral cooperation in defense and security fields. The mutual trust and friendship between PLA and foreign armed forces have been strengthened, it says.
China not only enhanced military exchanges with big countries such as the United States and Russia, but also cemented cooperation with its neighboring countries and vast developing countries, the article said.
Confronting frequent national disasters in 2005, relevant departments of PLA offered timely assistance for disaster countries after the tsunami in the Indian Ocean, the earthquake in Pakistan, as well as Hurricane Katrina in the United States.