One-child policy becomes controversial topic
(Xinhua)
Updated: 2005-12-29 20:54
Future destiny of China's once-ambitious family planning policy has become a controversial topic in the academic circle.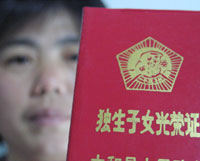 A woman shows her one-child certificate in Fuyang, Anhui Province in this November 14, 2005 photo. [newsphoto]
At a recent forum on China's population and economy hosted by the Beijing University, the family planning policy was challenged by a number of Chinese scholars and government officials.
An unanimous opinion from the forum showed China should mull its population policy in a more scientific way and seek a proper resolution.
Since China launched its family planning policy three decades ago, most couples have only one child. Disputes are now raised across the country over the expanding gray generation and skewed gender ratio.
Official statistics showed that China now ranks in the low-birth-rate club with a population natural growth rate of 0.9 per thousand.
At the same time, people above age 65 make up 7.6 percent of China's total population, a sign of a quicker pace into an aging society.
The gender gap among children born in China has been widened in recent years. Figures show that the average ratio of boys to girls was 117 to 100, exceeding the norm of 105 to 100.
Chinese economists said at the forum that the imbalanced population structure and aging population are likely to be a bottleneck of China's long-term economic growth and bring about a series of economic and social problems.