China winning war on Internet pornography
(AP)
Updated: 2005-12-29 19:00
China is winning the war on Internet pornography but it will be hard to eradicate entirely as many Web sites are based outside of the country, a senior police official said on Thursday.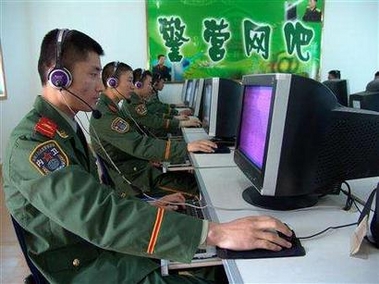 Soldiers surf the Internet in an army base in Huaibei, in eastern China's Anhui province, April 14, 2005. [newsphoto]
Regulations also target sites that publish fabricated information and content deemed to harm national security.
"The spread of Web sites that involve pornography has been bought under effective control," Zhao Shiqiang, vice head of the Ministry of Public Security's Internet security and supervision bureau, told a news conference.
Police had detained 221 people and shut down almost 600 domestic pornographic Web sites as of the end of November, Zhao said.
"Due to the specialized nature of Internet technology, there are still some places where pornography exists," he added. "Harmful information on overseas sites can still be transmitted internally, and a minority of people try to use the Web to carry out illegal activities."
China has been taking aim at violent Web-based games as well as spam, fraud and gambling.
An average of 60 million spam e-mails are sent every day in China, according to security ministry figures.
They also banned posts that "instigate illegal gatherings, formation of associations, marches, demonstrations, or disturb social order," .