Chen Suhou: From vice governor to farmer
By Jessie Tao (chinadaily.com.cn)
Updated: 2005-12-29 14:58
He used to be a top official in South China's Hainan Province, but chose to be a farmer with his wife after retirement, determined to do something for the farmers back in his hometown, instead of enjoying a comfortable and peaceful urban life. He is Chen Suhou, retiring as vice dean of Hainan Provincial People's Congress and now a contented farmer.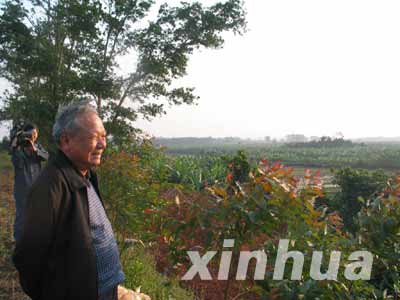 Chen Suhou is very contented with being a farmer in his hometown after retiring as vice dean of Hainan Provincial People's Congress. [Xinhua]
Chen's hometown -- Nanbao Town of Lingao County in Hainan -- was a widely known poor area when Chen arrived there upon his retirement in 2003. As a local saying went, "Never marry your daughter to Songhai Village." However, the scene is greatly different three years later, with the saying now, "Do marry your daughter to Songhai Village." How was the 70-year-old man able to change the fate of a poverty-stricken village? The answer lies as follows:
"I am a farmer too!"
Though a highly accomplished official, Chen has never forgotten his "farmer" identity, writing in his book Farmers and I, "I myself am a farmer too."
According to Chen, his heartfelt sympathy for farmers is partially based on his childhood experience. When he was still a small child, his family was forced to leave their native place, and lived in a farmer's bullpen in a neighboring county for three years, during which he learned to plough, furrow, reap, and transplant rice seedlings, savoring the hardships and pleasures of being a farmer.
Since then, Chen has involved himself with farming matters, speaking for farmers wherever and whenever he can.
For example, in 1999, the Hainan provincial government mandated a 3-yuan movie for every farmer per year. Though a small amount, the charge gave rise to fierce disputes among farmers. Upon knowing this, Chen Suhou, then deputy provincial governor, wrote to the governor, saying it was against the Central Government's prescription on reducing farmers' burden. He suggested the charge be lifted. In the end, the governor repealed the regulation, well protecting farmers' interests.