Nicole Kidman to wed country singer in Spring
(Xinhua)
Updated: 2005-12-29 14:08
Australian mega-star couple actor Nicole Kidman and country singer Keith Urban are officially engaged, and is set to get married next Spring, according to the Daily Star.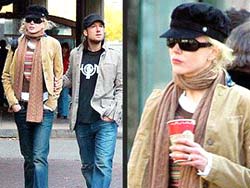 Nicole Kidman & Keith Urban is set to get married next Spring. [Yahoo]

"Nicole and Keith are very happy together and are planning to wed as soon as possible. They are both busy with work commitments but are hoping to marry in the spring," sources close to the stars revealed.

The pair are planning a low-key ceremony on the beaches of the US Virgin Islands.

"Nicole and Keith have both been to the Virgin Islands and have fallen in love with the place. And Nicole's two adopted children Isabella and Connor will attend the event but she doesn't want any fuss. It will be a chic but simple affair."

Naomi Watts, a friend of Nicole's, explained, "Nicole is getting on with it. We have both been busy but we do catch up as often as possible. And yes I can confirm she is very happy."

Kidman has reportedly spent the Christmas holidays with Keith Urban and his family in Nashville, following a similar visit there in November to celebrate Thanksgiving.

Nicole and Urban, both at age of 38, met in January at a Los Angeles gala dinner honouring noted Australians. Kidman is currently working on five films, up to $108 million worth of work, according to the Reporter figures.