Talks fail to resolve Ukraine-Russia gas dispute
(AP)
Updated: 2005-12-29 09:47
The energy ministers of Ukraine and Russia failed to resolve a dispute over Russia's plans to raise the price of natural gas exports to Ukraine.
The two officials left negotiations in Moscow late Wednesday without a deal, but talks were to resume Thursday, Ukrainian Energy Minister Ivan Plachkov said.
Russia is threatening to cut off supplies within days unless Ukraine accepts its demands to pay more than four times the current price for gas imports.
"We agreed to break until tomorrow," Plachkov said in footage shown on NTV television, adding that compromises in the nations' positions are essential.
"Of course" compromises are possible, Plachkov said in response to a reporter's question. "There is no way to do without movement and compromises."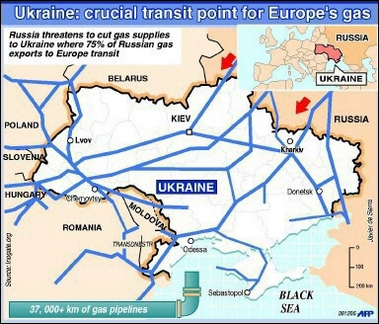 Graphic showing gas pipelines.[AFP]

Russia's state-controlled Gazprom natural gas monopoly says it is prepared to shut off gas to Ukraine on January 1 _ a major holiday in both countries _ unless Ukraine accepts the price increase.

Hours before the talks between Plachkov and Russian Fuel and Energy Minister Viktor Khristenko, Ukrainian Prime Minister Yuriy Yekhanurov denounced the Russian demand as unacceptable pressure against his country.

About a third of Ukraine's natural gas comes from Russia, and Ukrainian officials say raising the price from the current US$50 (euro42) per 1,000 cubic meters could cripple Ukraine's energy-intensive heavy industry and impede the country's efforts to boost its economy.

Gazprom argues that Ukraine should pay US$220-230 (euro186-194) _ more in line with world prices _ and portrays the demand as a justifiable move to scrap energy subsidies enjoyed by former Soviet nations.

Kiev has asked for the increases to be phased in over five years instead of all at once.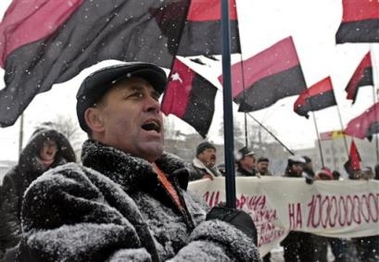 Protesters hold flags of the Congress of Ukrainian Nationalists party during a protest against Russia's plans to increase gas prices for Ukraine, at the Russian Embassy in Kiev, Ukraine, Tuesday, Dec. 27, 2005. [AP]

Yekhanurov warned Tuesday that Ukraine could divert some of the Russian gas supplies going to Europe, calling it Ukraine's right to take 15 percent of those shipments passing through its territory to European markets. Gazprom said such action would amount to theft.

Ukraine has pointed out that other ex-Soviet republics such as Georgia and Armenia have had their gas tariffs raised far less _ to just US$110 (euro93) per 1,000 cubic meters.

Belarus, a Russian ally, reached agreement with Gazprom Tuesday to receive gas for US$46.68 (about euro37) per 1,000 cubic meters _ just 20 percent of what the company wants Ukraine to pay.

Ukraine's relations with the Kremlin have been tense since last year's Orange Revolution when reformist President Viktor Yushchenko came to power on a platform of moving Ukraine into closer integration with the West and away from Russia's orbit.

The gas dispute comes just months before parliamentary elections in Ukraine in which the party of last year's losing presidential contender, the Kremlin-backed Viktor Yanukovych, is poised to perform strongly.

He has accused Yushchenko of provoking the dispute needlessly by souring ties with Russia through his pro-Western drive. Under constitutional changes in Ukraine, the winning party will choose the next prime minister who will have expanded powers at the expense of the presidency.

Ukraine uses almost 80 billion cubic meters (104 billion cubic yards) of gas annually, receiving 25 billion cubic meters from Russia, and 36 billion cubic meters from Turkmenistan, pumped via Russia. Ukraine itself produces some 18 billion cubic meters.

Yekhanurov warned that he had ordered Ukraine's Naftogaz company to prepare a motion against Gazprom before the Arbitration Institute in Sweden, claiming the Russian side intends to violate existing contracts. The arbitration body cannot undertake the case unless both parties request it.