Eight killed in escape bid at Iraq prison
(AP)
Updated: 2005-12-29 08:44
Inmates stormed a prison armory in a northern Baghdad suburb Wednesday, with one grabbing an AK-47 rifle from an Iraqi guard and firing indiscriminately, killing eight people and wounding a U.S. soldier, Iraqi and American military officials said.
The botched escape attempt comes days after the United States said it would not hand over prisoners to Iraqi officials until they improved conditions in the overcrowded prison system.
Wednesday's incident occurred at the Justice Ministry's A'dala Prison in the suburb of Kazimiyah. The facility used to be military intelligence headquarters under Saddam Hussein and housed Iraqis and foreigners.
An Iraqi prisoner managed to disarm a guard and fired randomly with his assault rifle, said Iraqi army Brig. Gen. Jalil al-Mehamadawi. Four guards and four inmates were killed before the gunman was restrained.
The U.S. military's account differed somewhat. A statement by Sgt. Keith Robinson said "it was reported that 16 prisoners attempted to escape the facility after first storming the armory and obtaining an undetermined number of weapons."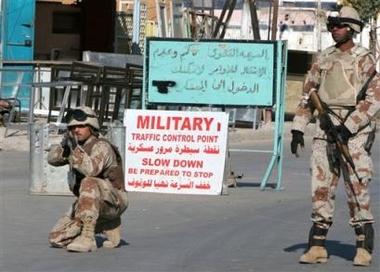 An Iraqi soldier trains his rifle at a checkpoint close to a prison where an inmate grabbed an assault rifle from a guard and opened fire, killing eight people, in Baghdad, Iraq, Wednesday Dec. 28, 2005, the Interior Ministry said. [AP]

Besides the eight deaths, one U.S. soldier and five prisoners were injured, Robinson said.

No one was available for comment at the ministry.

Pentagon spokesman Bryan Whitman said Wednesday that the prison was not under U.S. control even though at least one American military member was injured in the assault.

Whitman said coalition forces are training the Iraqis in detention operations so that all detainee facilities can be turned over to the new government.

"This is an area where continued training is going to be necessary," he said.

The U.S. Department of Justice is training Iraqi prison guards, and about 300 Iraqis have completed the course.

Iraqi prisons often are overcrowded, and there have been allegations and accusations of prisoner abuse at many facilities.

The incident came just three days after the U.S. military said it would not hand over detention facilities or individual detainees to Iraqi officials until they have demonstrated higher standards of care.

The U.S. military has said that no date exists for such a handover. Instead, the handover was contingent on Iraqi officials being able to show they were following international law and not violating detainees' rights.

The State Department has acknowledged that the problem is widespread in Iraq.

U.S. Ambassador Zalmay Khalilzad said earlier this month that at least 120 abused prisoners were found in two detention facilities run by the Shiite-led Interior Ministry.

"The problem has clearly not been solved and the problem is widespread," State Department spokesman Adam Ereli said in Washington on Tuesday. "We and the Iraqi government continue to have concern about the way prisoners are treated in Iraqi facilities and in facilities nominally under the control of the Iraqi government."

Last month, Shiite Prime Minister Ibrahim al-Jaafari promised an investigation into the allegations of abused prisoners, with results being released two weeks later. No report has been issued so far.

Before then, Sunni Arabs had complained about abuse and torture by Interior Ministry security forces. Interior Minister Bayan Jabr has said torture allegations have been exaggerated by people who sympathize with the Sunni-led insurgency.