Palestinians' Fatah Party overcomes split
(AP)
Updated: 2005-12-29 08:39
The Palestinians' ruling Fatah Party overcame a split Wednesday that threatened to hand victory to Hamas militants in parliamentary elections next month, submitting a unified list of candidates.
But chaos reigned in Gaza, undermining efforts by Palestinian leader Mahmoud Abbas to show that he has taken control after Israel's summer pullout.
Israel began enforcing a no-go zone in northern Gaza, firing shells and threatening to shoot anyone who approaches the border ¡ª an attempt to stop Palestinian rocket fire. A 14-year-old Palestinian boy was slightly wounded by a shell fragment, Palestinian doctors said.
Fatah-affiliated gunmen staged violent protests to demand their own spots on the list of candidates, briefly seizing election offices and exchanging gunfire with police. Also, three British citizens were kidnapped at the Rafah crossing from Egypt into Gaza.
Several hours before the bombardment, the Israelis dropped leaflets in Gaza to warn people to stay away from the border. Defiant militants fired two rockets at Israel just before the barrage began. There are no villages in the target area.
Since Israel pulled out of Gaza in the summer and tore down its 21 settlements, militants have been able to come closer to the border to fire their homemade rockets, increasing their range to include the outskirts of the city of Ashkelon. Over the last 10 days, two rockets have exploded in an industrial area south of the city, where there are sensitive installations like a power plant and a fuel depot.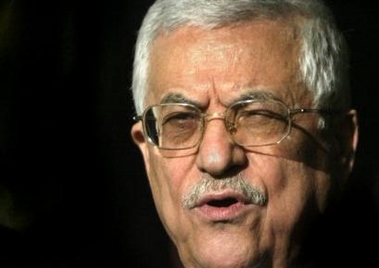 Palestinian President Mahmoud Abbas, also known as Abu Mazen, speaks to reporters outside his office in Gaza City, Wednesday, Dec. 28, 2005. The Palestinian leader praised the Fatah Party's decision to unify and urged all Palestinians to come together.[AP]

Since the pullout, Israel has often shelled Gaza in response to rocket attacks, but Israeli security officials said this was the beginning of a new offensive.

"We are definitely stepping up the level in our response," said army spokeswoman Maj. Avital Leibowich. "We can't allow the situation to carry on like this. We can't endanger the lives of our people." She said more than 200 rockets have been fired since the pullout.

Israel has said it needs to take action because Abbas' security forces are unwilling or unable to stop the rocket attacks.

The turmoil came less than a month before Palestinian voters are called on to judge their government in Jan. 25 parliamentary elections.

Squabbling factions of Abbas' Fatah Party managed to present a single slate of candidates. The dispute pitted Fatah veterans who entered the West Bank and Gaza in the mid-1990s with the late Yasser Arafat against younger leaders who grew up in the territories. Two weeks ago they submitted competing slates for the election.

The compromise list is headed by the most popular of the young leaders, Marwan Barghouti, who is serving five life terms in an Israeli prison for his part in deadly attacks. The next three slots are filled by veterans.

All the chaos is expected to benefit Hamas. The Islamic movement is fielding candidates for the first time and has done well in several rounds of local voting. Fatah leaders hoped their reunification would ensure them a victory in the elections, but poll results were mixed.

Not all Fatah members were pleased with the compromise, briefly taking over Gaza offices in violent protests.

In Gaza City, more than 60 gunmen stormed the main election office, exchanging fire with some 500 security forces who rushed to the scene. One policeman was wounded.

In Rafah, gunmen surrounded the election office, but Palestinian police kept them out. In Khan Younis and Deir el-Balah, gunmen made it into the buildings. Some were fighting for slots in the Fatah candidates' list; others were demanding jobs in Palestinian security forces.

All the standoffs ended within hours with the gunmen leaving the scene.

The Palestinian Interior Ministry condemned the mayhem, saying that attempts to take over election offices are "national crimes."

In another sign of disorder, three British citizens were kidnapped at the Rafah crossing from Egypt into Gaza on Wednesday. Palestinian security spokesman Adnan Barbach said the three were British citizens.

It was not known who took them, but such abductions are becoming relatively common in Gaza and usually end after a few hours with no one harmed. The kidnappers usually demand jobs or freedom for imprisoned relatives.

A security vehicle chased the kidnappers and their victims, but the car escaped, said a Palestinian security official, speaking on condition of anonymity because the hunt was in progress.

In another development, Israeli jets blasted a base south of Beirut of the Popular Front for the Liberation of Palestine-General Command, a small Syrian-backed group, hours after rockets hit a northern Israeli border town. No one was hurt, but several houses were damaged.

It was Israel's deepest strike into Lebanon in 18 months. Rocket attacks from Lebanon have been rare since Israel pulled its forces out of south Lebanon in 2000.